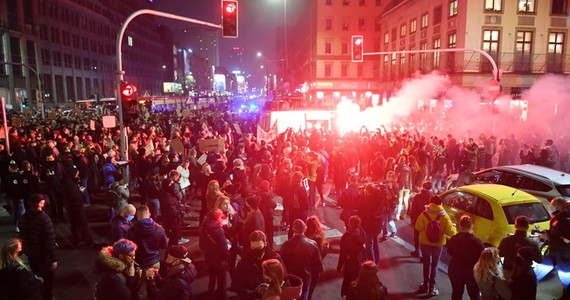 The most controversial in yesterday's protest was caused by the actions of plain clothes police officers with telescopic batons, who arrested the participants of the Women's Strike. As Onet learned, they included officers from the elite Bureau of Anti-Terrorist Operations and anti-terrorists from other parts of Poland. They were deported there at the request of the Warsaw Police Headquarters, which was in command of the entire operation.
The Bureau of Anti-Terrorist Operations is an elite anti-terrorist agency dedicated to fighting organized crime, escorting the most dangerous criminals and detaining the most dangerous people in Poland. They are commonly referred to as "police commandos".
Former BOA anti-terrorist: Such actions are used against football fans, not women
During various demonstrations, anti-terrorists often provide protection to the riot police and try to remove the most aggressive and dangerous people from the crowd. However, this usually happens in high risk situations.
– It all depends on who these activities are performed against. We have acted this way many times, usually on November 11, when Kibol's confrontational militia appeared. This was only true for these people. These were organized groups, often armed with batons, brass knuckles, knives and Molotov cocktails, which they later threw at the police officers, a former officer from the Bureau of Anti-Terrorist Operations told us.
– From the command position it was always visible which part of the group behaves the most aggressively and is a threat to the riot police. Then, based on the commander's instructions, a team of our AT police officers moved there and specific, indicated people were taken. We almost always found dangerous tools with them. These were very dynamic situations, but they were aimed at ensuring the safety of both the officers themselves and other participants of the demonstration – he added.
The former AT officer stressed that he did not see the reason why such measures were applied yesterday: – These measures can be prepared in the event of an escalation. But there is a difference between women demonstrating and football fans aimed at confronting the police. Women are neither armed nor aggressive. They express their belief, but this is no reason to use such actions against them.
The former anti-terrorist also admitted that people could feel confused during the actions of plainclothes police officers, because in such a dynamic situation it is difficult to recognize a police officer. How does it look formally? As a rule, "undercover" agents do not need to have markings to indicate that they are from the police. During the intervention, however, they must identify and state that they are officers.
– When operating in a crowd, it usually looks like two police officers arrest a person and four protect him. Therefore, these four must identify themselves and say that they are police officers – our interlocutor explained.
– A police officer has legal protection, but he must also have something like tactical awareness and know to whom and to what extent to apply the direct coercion measures. Officers also participate in public life and need to know who, for example, Marshal Czarzastie is. In addition, they communicate with each other, they communicate with the commander, who has an overview of what is happening. None of this worked well yesterday, he noted.
Source link