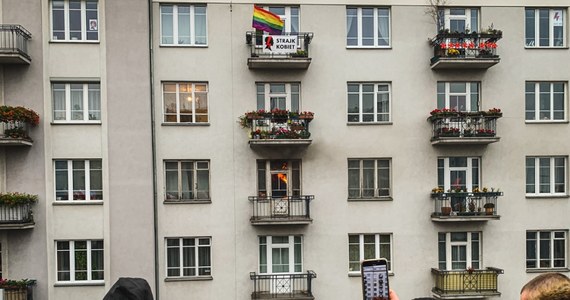 On Sunday (Nov. 15), the prosecutor filed charges against a 36-year-old man suspected of setting fire to an apartment. May 3 in Warsaw, which took place on November 11. The public prosecutor has asked the court to arrest the suspect.
The incident took place during the Independence March
/Marcin Bruniecki /News reporter
On Sunday, the prosecutor of the Śródmieście-Północ District Prosecutor's Office in Warsaw questioned a 36-year-old man who had been arrested in Białystok as a suspect.
– The suspect was charged with bringing immediate danger of an event threatening the lives and health of at least a dozen people, in the form of fire. The incident took place by throwing a burnt torch at the building. May 3 in Warsaw. The charges against the suspect also include damage to the victims' property. The act was classified as a hooligan offense, punishable by up to eight years in prison, attorney Aleksandra Skrzyniarz, spokeswoman for the Warsaw prosecution service, reported Sunday.
The suspect pleaded not guilty and presented the prosecutor with his version of the events of November 11. The content of his explanation is kept secret from the investigation.
The prosecutor has filed an application with the court for temporary arrest of the 36-year-old. The petition stated, among other things: fear of cheating, high risk of punishment, and also fear of fleeing.
According to PAP, the arrest hearing will take place around Sunday 17 at the Warsaw-Śródmieście district court.
On Saturday, the Warsaw police station announced that the arrest of the suspect was possible thanks to the cooperation of the Warsaw and Białystok police.
"The agents have established the identity of the 36-year-old, thanks in part to the monitoring of recordings" – Warsaw police reported. The man was found to be associated with the hooligan community. In the past, it has been recorded in connection with, among other things, violation of the physical integrity of a government official, participation in combat and destruction of property.
"The stop was at the last minute, as the 36-year-old was getting ready to go to one of the Benelux countries. His car was ready for the road, things were packed and put in the car" – informed KSP.
Source link