The Intel Server GPU system is designed with servers in mind, but it will also be used in data centers for Cloud Gaming.
Intel is gradually expanding the range of graphics chips of the Xth generation – after the models Iris Xe and Iris Xe MAX, the manufacturer has prepared the Intel Server GPU. This time, however, we are dealing with a structure designed for servers and data centers.
Intel Xe graphics card for servers – gamers will also benefit
The Intel Server GPU is based on the low-power Xe LP architecture, which was also used in previous Iris Xe models with Tiger Lake and Iris Xe MAX processors. The manufacturer used a system-on-chip (SoC) design, which was equipped with 8 GB of DDR4 128-bit memory.
However, the entire ecosystem plays a key role. The manufacturer claims that the combination of Intel Xeon scalable processors, Intel Server GPU graphics and open and licensed software enables the construction of high density, low latency systems while ensuring a low TCO (Total Cost of Ownership).
Such capabilities play an important role in the case of cloud systems that support Android games – for example, a card with four such systems (H3C XG310) allows you to support up to 100 instances simultaneously, and two such cards can support up to 160 instances simultaneously ( the exact number depends of course on the title and server configuration). Graphics also find use in streaming multimedia with high density and low latency.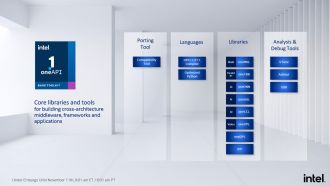 Developers can take advantage of the common API in the current Media SDK here, which will be included in the oneAPI library next year. With Intel oneAPI tools, you can better exploit the potential of your hardware and reduce software development costs.
The Intel Server GPU is already shipping to customers. We know Intel is partnering to roll out the new platform with several Cloud Gaming partners, including Gamestream, Tencent Games and Ubitus.
Source: Intel, ComputerBase
Read more about graphics cards:
Source link