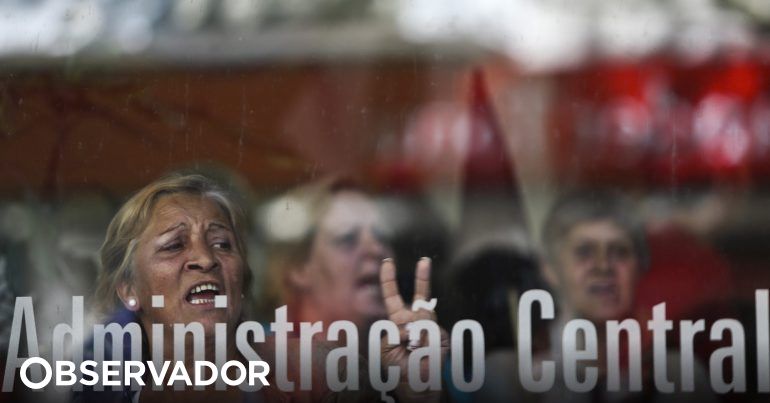 The pressure to defrost careers in the public sector is one of the "bottom-line risks" for the implementation of the budget in the second half of the year. The note is left behind by the budget of the technical support unit (UTAO) and is the second announcement for possible consequences of the transition to the "pressure" for defrosting careers in the state. Parliamentary experts say that this risk exists not only in education, but also in defense, health, safety and justice, which was signaled in the salary valuation service.
Teachers have been at the forefront of the war for the valuation of all career time frozen in the past, a claim rejected by the government for high budget costs – in the order of 600 million euros, according to the Executive. Fenprof has warned that if negotiations fail, it can continue with further strikes in October.
Another danger to which the UTAO refers is the "pressure to increase public investment", at a time when criticism is being made for investing conversions in the field of investments in public services such as healthcare, but also in transport infrastructure, with rail transport. get a lot of attention in recent months.
Until July, Infraestruturas de Portugal, which manages the road network and rail network, had an implementation rate of 17.7%, which drops to 13.9% at the CP. The president of this company came this week to weaken the impact of the prisoners on the implementation of the costs. For Carlos Gomes Nogueira, this is a false problem, because when a motivated deactivation is requested (at the Ministry of Finance) it is permitted.
In the analysis of budget implementation up to July, Parliament's technicians put more emphasis on the risks that are on the expenditure side. In the income they point to the uncertainty surrounding the recovery of the guarantees obtained on Banco Privado Português, a result that was already foreseen for 2017, but that happened this year.
New Bank increased the deficit to 1.6%, but the effect will be diluted
In the first six months of the year, the government deficit in public sector accounts will be 1.6% of gross domestic product (GDP). This figure is above the target of 1.1% before the end of the year, which has already been revised to 0.7% with the stability program, which is mainly explained by the capital increase operation of the new bank. With the activation of the conditional capital mechanism to cover losses, the Resolution Fund had to inject an additional 792 million euros in the institution in the second quarter. However, experts from the European Parliament devalue this effect because it will not jeopardize the deficit target because its impact will be weakened throughout the year.
Source link