 In the first place, the pension budget will have to be increased by 15 billion ley in 2022, because the pensions will be doubled, after having been recalculated in accordance with the new law. It is very likely that the PSD will no longer win the elections in 2020, but the most important element is migration.
Minister of Labor Lucia Olguţa Vasilescu said that after many years the number of employees exceeded that of pensioners, as there are 6.3 million employment contracts registered in Revisal, where certain categories are not included, such as civil servants and the army, and 5,019,600 pensioners. Their number could decrease if we take into account that Romania loses people every year in the equivalent of a medium-sized city such as Slatina or Tulcea.
This year, approximately 100,000 Romanians are expected to leave the country. In a simple calculation, the Romanian population declines with nine Romanians per hour. It is those who leave the country with the thought not to return.
Most Romanians currently living abroad are between 25 and 39 years old. They represent the active population. I am the labor force and young people who can contribute to the increase of the birth rate in Romania. But their children are born abroad and raise the population of other states.
17.7% of the Moldovans left the country, the second place was the Romanians in Dobrogea (14.4%), followed by those in the east of Transylvania (11.4%). The opposite is the area of ​​Bucharest – Ilfov, where only 8.9% of citizens with a stable residence decided to go abroad.
An investigation by the United Nations shows that there are 3,400,000 Romanians in Diaspora. The figure represents 17% of the Romanian population. It is one of the highest percentages for a country that has not been affected by armed conflicts.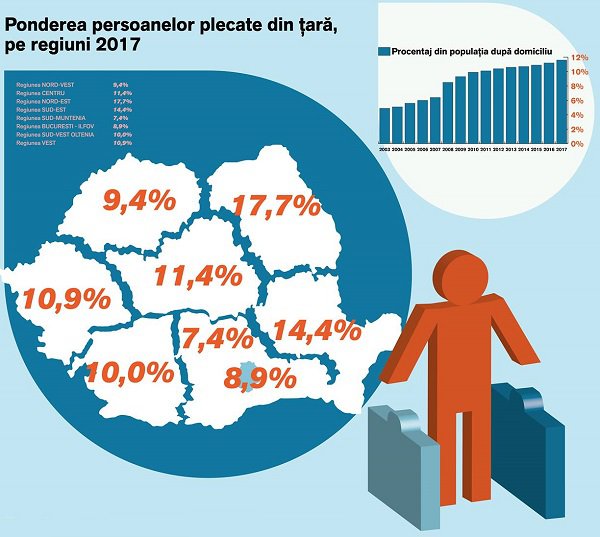 Source link