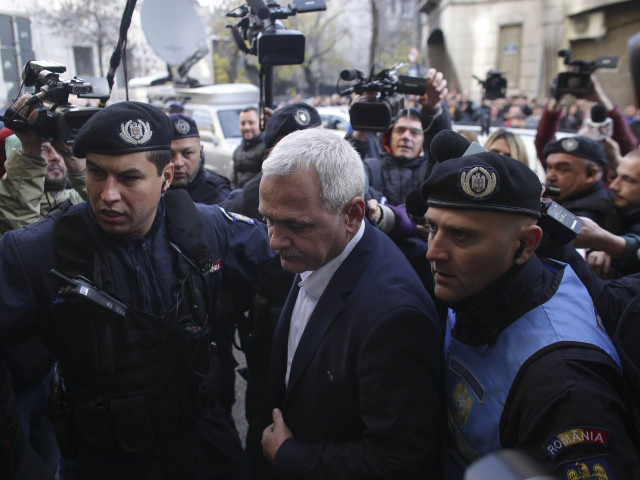 The protest of 10 August, violently suppressed by gendarmes on Victoria Square in Bucharest, became the subject of German public television ARD. Based on this subject, journalists from Germany made an extensive report about Liviu Dragnea, the one I consider guilty of what happens in Romania.
"A big protest against corruption – these are the images of Bucharest last weekend, who was the focus of the demonstrators – Liviu Dragnea, President of Parliament and PSD leader", reported ARD journalists.
German journalists have explained in detail why they consider responsible PSD leader Liviu Dragnea as what happens in Romania. They analyzed the corruption scandals in which he was involved, but also the beliefs he received. German journalists came to Romania to visit the Belina Lake, in the middle of a resounding criminal case.
German journalists were accompanied in Teleorman by Carmen Dumitrescu, the journalist who documented Dragnea's cases.
This is how the protests and the context in which they took place came from Germany. An ARD television report:
subtitle:
"They have corrupt politicians, but they no longer accept what they are offered." Tens of thousands of Romanians are protesting on the streets in Romania. "Main application: resignation." Dismissal for thieves.
The core of the criticism is Liviu Dragnea, the President of Parliament. Man has a public dignity function in the capital of Bucharest, but at home he seems to fill his pockets without being ashamed.
A night on the Danube, in the south of Romania, in the province of Teleorman. It is one of the most depressing places in Europe. Previously, the 56-year-old Nicu Burseşteanu could come here by boat to fish like many of his local residents did. That is now no longer possible.
Nicu Burseşteanu, the local Teleorman: Even now not yet. Fishing was the only thing I could do here. I am so angry.
Well maintained, Belina Island covers an area of ​​347 hectares. He belonged to the state. Now she reacts to controversial construction company Tel Drum. He would have rented the island for 1,500 euros per month.
He would have made this questionable project possible. The most powerful politician in Romania, Liviu Dragnea, the head of the Social Democratic party in power and the head of the Parliament.
He is from time to time with Belina. He now has room for his hobby, without seeing local fishermen.
Before someone in Romania received an island, but here it happened and we fishermen had to disappearsays Nicu.
In Bucharest, Liviu Dragnea, he must appear in court and listen to questions from journalists:
– If you do not do business with Tel Drum, why are you afraid of the Belina investigation? Why do not you recognize that Tel Drum is the company of your best friends?
Dragnea silence. He is being investigated for setting up a criminal group in the case of Tel Drum and for illegally obtaining EU funds, it is about 20 million euros. Another file has been condemned.
In Teleorman, in the southern county of Romania, in the home of Liviu Dragnea, journalist Carmen Dumitrescu is one of the most courageous. He is one of the first to investigate the ties of Liviu Dragnea with Tel Drum.
Carmen Dumitrescu, journalist: Always, at times when I discovered something, I followed car's of Tel Drum, all kinds of intimidation attempts or threatening letters that appeared at my door..
He lives in Alexandria, in the red of the PSD, where Dragnea is also home. In this fantastic construction, built by the corrupt company Tel Drum, Liviu Dragnea is now fond of big horses, while his neighbors in Alexandria live in happy poverty, many with a pension of only 50 euros.
Pestilentiele scents all over the block. Carmen Dumitrescu always writes about bad conditions and tries to find out why people here have chosen Liviu Dragnea.
– The whole block remained without power, I had no light. But Dragnea was the only one who came to us and brought us electricity again, and he also brought us food. He came here with the car.
– He personally?
– Yes, Dragnea personally.
A floor above, a neighbor wants to be seen on television, too bad. He tells us he should leave here, but he does not know where to get it.
Carmen Dumitrescu, journalist: Something has to happen quickly, this block is uninhabitable, it has to be demolished because there is a danger of falling over people.
This is not a case at all. Romania is the second poorest country in the EU; institutions are trembling, negligence, corruption is the order of the day.
I hope they have brought in recent years. More and more politicians suspected of corruption are being brought here, even the most powerful. Thanks to chief prosecutor Laura Codruta Kovesi, praised in Europe and by the European Commission.
Another hope is civil society. For almost two years, thousands of people have regularly been on the streets against Dragnea and the entire government.
A few weeks ago laws were passed that could be of use to corrupt politicians and convicts such as Liviu Dragnea.
Almost simultaneously the fight against corruption was a new blow. Kovesi was withdrawn at the request of the government. Here is Kovesi in the farewell speech: The brutal way they change laws shows that they want protection for the past, for the present and for the future.
About 100,000 people do not want to tolerate that. It is August 10. Suddenly the peaceful protest stopped with tear gas spills from the special units of the Gendarmerie. It is one of the most brutal interventions of the Oridine troops since the 1989 revolution.
Along with the "No Penalty" T-shirts in public functions, as opposed to signatures in the Romanian constitution, more than 100,000 people have been signed in Bucharest.
Here, in the streets of Teleorman & # 39; s Dragnea, they have not yet registered 2.000 so far.
Nicusor Lina, USR: Collecting autographs in Dragnea County is very difficult, because the world here is like extraterrestrials. The end of this action is questionable. It is almost inconceivable that the majority of the power gives permission.
The action shows that Romania is a broken country in two, some are against Dragnea, others against it.
The former fisherman Nicu Bursuşeanu is also suspicious. Live on your own. The wife and children left the Dragnea Teleorman forever. I send him money to live.
Nicu Burseşteanu, local Teleorman: I'm sorry I chose Liviu Dragnea, PSD. I do not do it anymore. Meanwhile, many people in Teleorman do not want Liviu Dragnea anymore.
*
In the evening, in the capital of Teleorman province, Alexandria. Carmen Dumitrescu sat at Victoria Square in Bucharest, but escaped tear gas.
More than 450 people were injured. The Public Prosecution Service has opened an investigation.
Carmen Dumitrescu: In every normal country there have been resignations so far, but that does not happen to us, no one assumes political responsibility. At this moment I have no hope that this will happen. On the contrary, if nothing happens, the Romanian government could become even more authoritative.
The government wants to present the protest as a dangerous attempt to overthrow the government. For Carmen Dumitrescu is an incredible statement. She now continues to write critical articles in Dragnea County.
Tags:
burn
,
PSD
,
liviu Dragnea
,
belina
,
protest of the Diaspora
,
German state television

Source link