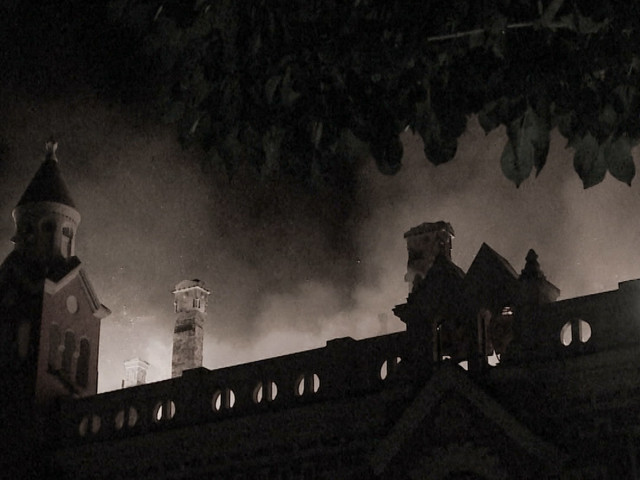 The Saturday fire is not the first to be the victim of the Greek-Catholic episcopate of Oradea. The first time happened in the nineteenth century when the city center was filled with fire and the flames destroyed the old headquarters of the district and the church of Saint Nicholas. Three other fires influenced the Greek-Catholic cathedral in Oradea for two centuries.
On June 19, 1836, Oradea stood for the greatest fire in the history of the city. A burning fire that lasted three days broke on the left bank of Crisul Repede. Flames have destroyed hundreds of houses and large city buildings.
Anca Deac, journalist Digi24 Oradea: "The fire included the center of Oradea, and several buildings were hit by fire." Prada also fell on the Greek-Catholic cathedral of St. Nicholas, whose roof was burned almost 200 years later with fire. it also happens with the Greek-Catholic Diocese of Oradea at a small distance from the cult of worship. "
Historians say that the houses of those days on the way of the flames were defenseless. The strong wind led to the spread of fire a few kilometers away.
Gabriel Moisa, historically: "Most houses were made of wood, the roof of at least wood, covered with reeds, with vegetation, so that it was very difficult to control by the fire."
The Greek-Catholic cathedral suffered the most. And the headquarters of the diocese of that time was full of fire.
Gabriel Moisa, historically: "The former headquarters of the Greek-Catholic Episcopate of Oradea was also hit, there was another building in this area, but it has suffered serious damage to that fire."
Proof of fire in 1836 was discovered a year ago when a consistent layer of ash was found when digging.
Doru Sicoe, historically: "The layer of ashes spread out over miles, practically, one meter deep, to say, it was very visible and constant everywhere, and then we realized that indeed the traces of the fire of 1836 that destroyed the whole building."
It is not the only fire opposite the Greek-Catholic cathedral in Oradea. In 1850, 1852 and 1902, three other fires would influence worship.
Ramona Novicov, art critic: "Metaphorically speaking, the Greek-Catholic Church has often gone through a burning fire, it is a martyrs' church, and the fire that burns the buildings, fortunately does not burn the spirit. "
Two days ago, however, for the fifth time in local history, the Greek-Catholic bishopric was again put to the test after the roof of the Episcopal Palace was full of flames.
Ramona Novicov, art critic: "Everyone is convinced that this palace will finally be reborn in its beauty, it will be restored, there are plans, there are all buildings, and especially the solidarity of the Orahoven, of all Orahoven will come to life in its beauty."
Reporter: Anca Deac
Operator: Florin Lucuţa
Tags:
church
,
headquarters
,
Digi24 Oradea
,
to burn
,
Greek-Catholic diocese of Oradea

Source link