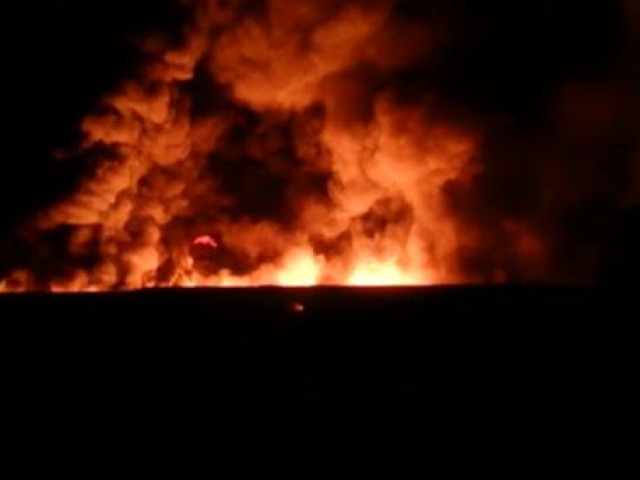 A big fire in Ialomita County. A recycling plant for plastics was fired immediately after midnight and the firefighters have also intervened at the moment. On the images sent by a Digi24 viewer, you can see how the flames become a few meters high. Three halls stretched over an area of ​​more than 3000 square meters have already been burned. Seven fire trucks from Ialomita, Ilfov and Bucharest and a SMURD crew are now on site. There is no information yet about people who have been injured by the fire.
A heavy fire took place on Thursday evening to a plastic recycling plant on a surface of about three thousand square meters of the village of Fierbinti-Targ in Ialomita County, with several firefighting teams that intervened for about seven hours to put out fire, which burned with fierce fires, and there was a danger that it spread to houses in the immediate vicinity.
Ialomiţa, Lăcrămioara Chira, spokesperson for the Emergency Situations Inspectorate (ISU), told News.ro that the fire at the plastic recycling plant in Fierbinţi-Targ was announced at 112 and flashed at midnight. violent.
The fire captured and destroyed three factory halls in an area of ​​about a thousand square meters each, and at this hour it was located, but it was not extinguished, burning with fierce fires. Firefighters from ISU Ialomiţa, emergency service and crews from ISU Bucharest-Ilfov, with seven trucks with water and foam, are on site.
The ISU representative said that there were houses in the immediate vicinity of the factory and that fire spread to homes, but there is no risk at this hour.
The fire was announced at 112 by the factory workers, with about ten employees who slept in barracks in the garden of the factory, far away from the flames, so that nobody was injured.
Tags:
fire brigade
,
Ialomita fire
,
hot trade

Source link