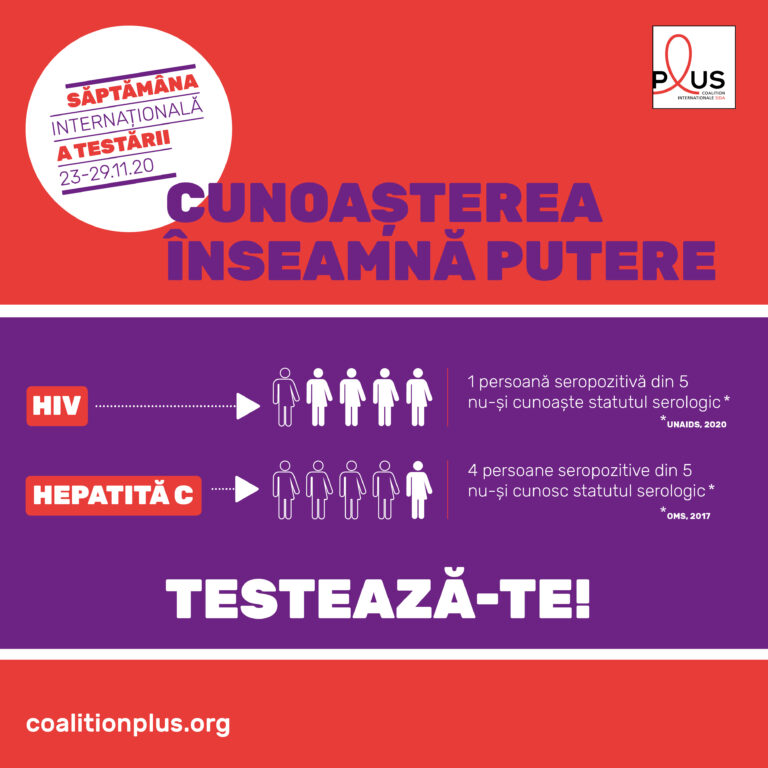 The Romanian Anti-AIDS Association, a member of the Coalition Plus, is organizing the first edition of the International HIV Testing Week in Romania. 700 people can take the HIV test at home for free until November 29 with a self-test, said campaign coordinator Mihai Lixandru.
In the first six months of 2020, 75% fewer HIV tests were performed than in the same period of 2019, due to measures to reduce the spread of COVID-19 cases.
International Testing Week is an initiative of the PLUS Coalition, an international network of HIV and viral hepatitis organizations, of which ARAS is a member. The campaign aims to raise awareness among the general public and vulnerable people about the issue of HIV testing, a first step against this epidemic. In this first edition, ARAS, in collaboration with the National Institute of Infectious Diseases "Prof. Dr. Matei Balș", is conducting a pilot project of self-testing across the country to increase access to HIV testing for all categories of the population. increase so that as many people as possible know their serological status to initiate appropriate treatment.
Thanks to the support of Coalition Plus, 700 people will be able to test themselves at home with an HIV self-test, which ARAS will send by courier free of charge. Despite the progress made in recent years, access to testing and early diagnosis remains a problem in most countries of the world. Nearly 50% of the cases discovered annually in Romania are diagnosed late, as early as the AIDS stage – according to data presented in the 2015-2019 National Reports, conducted by the HIV / AIDS Monitoring and Evaluation Department. infection in Romania – INBI "Prof. dr. Dr. Matei Balş ".
Testing is a first and important step in controlling and stopping HIV / AIDS infection. Early detection has many benefits, especially for the individual, who can access specialized medical services, as well as for society in general. An early diagnosed patient will be able to reach an undetectable viral load more quickly and thus no longer transmit the virus.
"Self-testing has now become a necessity, especially in the current context of Coronavirus, now that testing has decreased nationwide. This allows us to provide easy and, most importantly, safe access to HIV testing for anyone who wants to be tested, regardless of location or time of day. " said Mihai Lixandru, coordinator of the International Testing Week – ARAS.
Source link