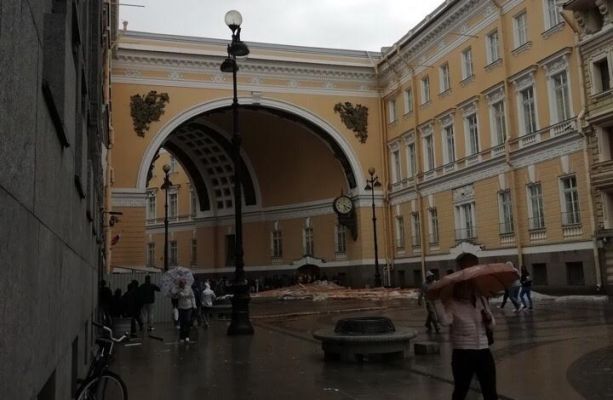 From the construction of the arch of the general staff building, located in the center of St. Petersburg, due to strong winds, the scaffolds steal, resulting in three people being injured, including a 15-year-old girl.
"Men are in a hospital in a moderate degree of severity, a teenager is in a serious condition." The construction collapsed on passersby because of the storm in St. Petersburg ", – the channel 78.ru informs.
At the moment they are all being admitted to a medical facility where they receive the necessary help.
According to the Regional Investigation Commission, the authorities are already carrying out a preliminary investigation to this effect, according to which a procedural decision will be taken.
"The scene of the incident is currently being inspected, a series of measures are being carried out to determine all the circumstances of the incident", specifies the press service of the TFR in St. Petersburg.
According to TASS, among the victims there is one foreigner, an Italian citizen – he has a head injury.
EADaily reported that on the night of August 21 a hurricane knocked down 42 trees in St. Petersburg. For security reasons, gardens and parks are closed on Tuesday in the city on the Neva.
Source link