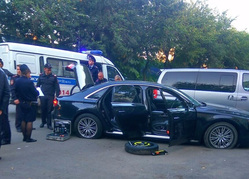 The car shot through the wheels and doorsPhoto: audience "Incident Ekatrinburg", "VK
At the intersection of the streets Mamin-Sibiryaka and Chelyuskintsev, three unknown men in masks shot down an Audi car. The recordings took place around 5:30 am on September 5, eyewitnesses in the "Incident Ekaterinburg" group in "VKontakte" share.
According to them, police officers work in bulletproof vests on the spot, the car is broken by wheels, bullet holes in the doors. Eyewitnesses presented different versions of what happened, one of which is a robbery. Reportedly, the attackers used Kalashnikov rifles and then disappeared on a black VAZ-2112.
In one of the anonymous messages, it appears that there is an & # 39; interception plan & # 39; has been introduced in the city. "Special attention Berezovsky and Pervouralsk," – writes the author of the post. In the press group of the police of Yekaterinburg reported "URA.RU" that the comments will be later.
Source link