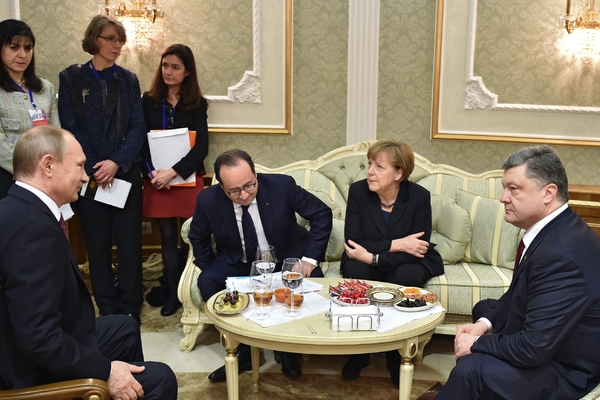 Dmitry Peskov, a spokesman for the Russian president, told in an interview with Rossiya 1 about the talks of Vladimir Putin with his Ukrainian counterpart Peter Poroshenko on the Norman Four in 2015. Words Peskov transfers to RIA Novosti.
During the interview, the Kremlin's official representative was asked to comment on the memoirs of former French President Francois Hollande, who was also present at the talks. The former French leader wrote that Putin threatened Poroshenko.
"During the very tense negotiations and during battles in Ukraine, which were released by President Poroshenko, Putin did not tell him the compliment sentences, of course.You can imagine that Putin spoke loudly, unambiguously, and quite understandably. [угрожающая] the formulation was not used, "Peskov said.
Memoirs of Hollande entitled "Lessons of Power" were published in 2018. The Ukrainian edition of Gordon.ua has published fragments of the translation of the book, especially the moments when the meeting of the leaders of Russia, Ukraine, France and Germany in Minsk is described.
"[Президент Украины Петр] Poroshenko and Putin constantly raised their voices against each other. The Russian president became so nervous that he threatened to crush the forces of his counterpart. This gave the fact that Russian troops are present in eastern Ukraine. Putin suddenly realized and took control, "- writes Hollande.
"Poroshenko stubbornly defended the sovereignty of his country, while Putin sought autonomy for the rebellious provinces and wanted to postpone the ceasefire for another three weeks, and he was so tough that he denied his direct relationship with the leaders of the separatists, said that he could not decide for them, he demanded that they be consulted, "the former French president continues.
The relationship between Moscow and Kiev deteriorated after the outbreak of the military conflict in south-eastern Ukraine in 2014. Ukrainian leadership accuses Russia of being involved in hostilities. Moscow points to the unfounded nature of the accusation and stresses that Russian soldiers in Ukraine were not there. Kiev also does not recognize the results of the referendum in Crimea, after which the peninsula separated itself from Ukraine and became part of Russia. Moscow emphasizes that the process of joining the region was in accordance with the norms of international law. A number of Western countries, including France, Germany and the United States, support the position of Kiev.
More important news on the Telegram channel & # 39; The Tape of the Day & # 39 ;. Subscribe!
Source link