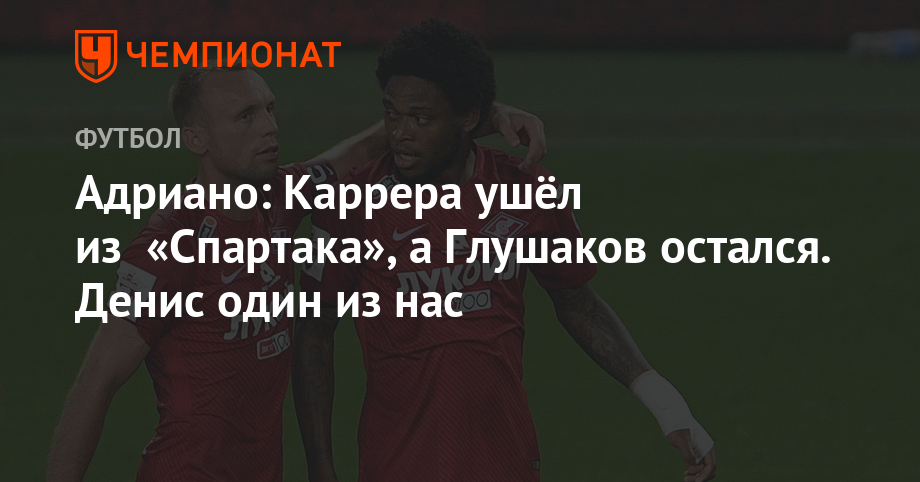 Adriano: Carrera left Spartak, but Glushakov remained. Denis is one of us
Spartak spire Luiz adriano told why the players support the midfielder Denis Glushakova, of which some red and white fans regard one of the main perpetrators of the former team mentor's resignation Massimo Carrera.
"We support Denis because he is our player Glushakov is one of us We do not want to provoke anyone We respect the opinion of fans who love Carrera We do not criticize them or him Do not try to make Massimo black in their eyes But I think they should also respect our opinion Carrera left, Glushakov stayed, he will be with us in bad times and in good times – he will help Spartak win, "quotes Sport24 Adriano.
The relationship between Spartak fans and Glushakov deteriorated after the resignation of Carrera. Many fans believe that Denis has sabotaged the work of an Italian specialist in a Moscow club. Before his retirement, Carrera Glushakov and Andrei Eshchenko sent to the Spartak back-up. After firing Massimo, the midfielder was returned to the main team.
Spartak announced the dismissal of Carrera on October 22, 2018. The specialist worked 2.5 years in the Moscow club and led during this time the team to victories in the championship and the Super Bowl of Russia.
Adriano told whom he considers the most valuable player of Spartak
Source link