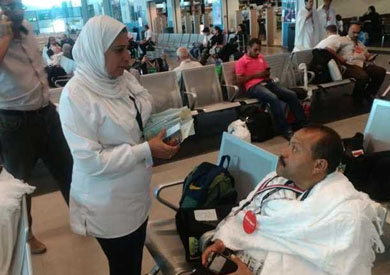 Written by Asma Sorour:


Posted in:
Monday, August 27, 2018 – 1:33 PM
| Last updated:
Monday, August 27, 2018 – 1:33 PM

The Ministry of Health and Population received the clinics from the Hajj medical mission until Monday afternoon, 84044 cases of illness and the necessary treatment, including 74190 cases in Mecca, and 6449 cases in Medina, while the clinic revealed the 3405 cases, while In Saudi Arab hospitals came in 242 cases, leaving 189 cases after recovery, and 53 cases were still being treated.
Dr. Mohammed Shawqi, head of the Hajj Medical Mission, said kidney dialysis was performed for 35 cases in Saudi hospitals, with a total of 205 kidney dialysis and 4 cases of chemotherapy received with a total of 5 sessions.
He stressed that the medical team should coordinate with Saudi hospitals before the sessions of dialysis and chemotherapy for cases of tumors, and should continue 3 times a day in all hospitals that have held pilgrims to monitor and monitor their health.
Dr. Amr Qandil, Egyptian medical adviser to Saudi Arabia and the general supervisor of the mission, added that no cases of contagious or epidemic diseases were discovered among Egyptian pilgrims, emphasizing that the preventive team is intensifying its activities through awareness and educational seminars for pilgrims to intensify and distribute pamphlets and leaflets to identify infectious and non-communicable diseases and prevention. Including, how to avoid sun rays, and how to monitor the health status of pilgrims to prevent infectious diseases entering Egypt with the return of pilgrims.
Source link