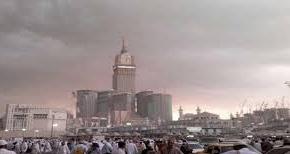 Expectation of precipitation until tomorrow
The public authority for meteorology and environmental care today issued warnings for the weather in the holy places, which will continue until Sunday evening.
The official spokesman for the authority, Hussein Al Qahtani, revealed the prevailing weather conditions at the holy places, which pointed out that the wind speed was 85 km, and the rainfall was 20 mm on Arafa and spread over Mina and the Holy capital, with the emphasis that the warning continues as expected until 10 o'clock this afternoon, as announced by the Commission through its preliminary predictions about the formation of cumulus clouds at the Mecca heights with possibility of precipitation Light on Arafa's hair during the evening of the day.
The Commission also warned the pilgrims to sit on the mountain heights because of the intensity of the wind and the expectation that the temperature tomorrow on her Arafa is between 42 and 47 degrees Celsius during the afternoon.
Source link