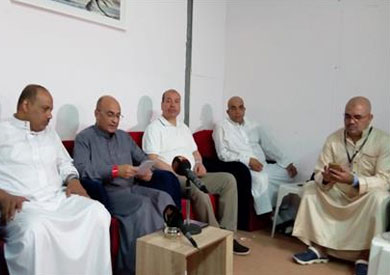 Holy feelings – Taher al-Qattan:


Posted in:
Wednesday, August 22, 2018 – 2:21 p
| Last updated:
Wednesday, August 22, 2018 – 2:21 p

Omar Marwan, the State Secretary for the affairs of the House of Representatives, said he would meet with the Guardian of the Two Holy Mosques, King Salman bin Abdul Aziz, on Wednesday at the Saudi King's meeting with the government leaders of the state commissioners.
In an interview with journalists accompanying the mission, Marwan said last night that the meeting will be a protocol and he thanked the king and the kingdom for their efforts and facilities to serve the guests of the Rahman.
Maroun explained that he will participate in the meeting between the Trustee of the Two Holy Mosques and the leaders of pilgrim missions to Islamic countries.
He pointed out that there is constant contact with the Ministry of Hajj in Saudi Arabia to overcome any problems or obstacles for the pilgrims of the house of God, adding that the Saudi ministry does not hesitate to punish one of the offenders. , where it decided to stop one of the deceased for violating the conditions for concluding contracts with tourist companies.
Source link