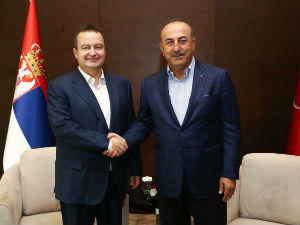 The consulate of Serbia is located in the Hotel Regnum in Belek, near the airport of Antalian, and the head of the consulate will be Fikret Ozturk.
The consulate is open for help and consular protection to our residents of the Antalya region. in a statement from the Ministry of Foreign Affairs.
The Ministers of Serbia and Turkey then discussed bilateral cooperation and regional issues and jointly considered bilateral relations to be of an enviable level.
The impetus was given by the personal relationship of the two Presidents, they also received a very frequent exchange of visits at the highest level.
The meeting reiterated that economic co-operation has soared and that the trade exchange now amounts to $ 1 billion a year, and the aim is to briefly increase it to three billion, according to a statement by SMEs.
Serbia and Turkey have a high degree of coherence in attitude towards a number of international issues, and it is necessary to continue working together to improve the position of both countries internationally, the meeting was estimated at
Fight against terror the opening of cultural centers and investment cooperation are just some of the areas on which further cooperation will deepen
Turkish agency Anadolia has passed the statement of Dacic that Serbia will never be part of a coalition of those they want to work against Turkey, including some of these organizations that are located in our country and in the region.
"Serbia will never offer a refuge for someone who has fought against the Turkish interests, the Turkish state and our Turkish friends," he said. is Dacic.
Head of Serbian diplomacy under reminded that in Turkey there are a large number of citizens from Serbia, and also in Serbia there is "a number of Turks, but also of the Muslim population, whether they become Bosniaks or Muslims mentioned, which has special sympathy for Turkey. "
"We must and must use it to be in the function of the common life and common interests of Serbia and Turkey," concluded Dacic, Anadolia .
. Otherwise, the number of tourists is from one country to another and now it is about 100,000 Turkish tourists in Serbia and 140,000 in Turkey, who are also indicators for deepening the relationship and the emergence of bilateral cooperation and mutual understanding.
Source link