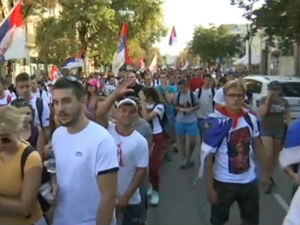 The traditional "Cerski Marsh" began this morning on the occasion of the commemoration of the Battle of Cerek, which is one of the most important victories of the Serb army in the First World War.
The state commemoration ceremony, held by the Minister of Labor, Employment, Veterans and Social Issues Zoran Djordjevic.
Organizer of the State Ceremony is the Government of the Republic of Serbia – Committee for the Preservation of the Traditions of the Liberation Wars of Serbia.
The battle of Cereus, which took place in August 1914, represents one of the most important and biggest victories of the Serbian army during the entire course of the First World War. This is at the same time a brilliant example of tactically well designed and completed military operations.
The members of the Serbian army, led by General Stepan Stepanovich, who had won the victory in the famous Cerska battle, gave an example of the overwhelming courage and patriotism that remained in the collective consciousness of the nation.
Source link