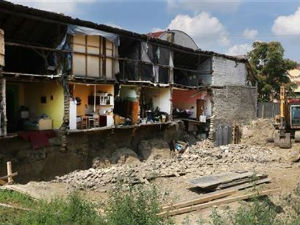 In the next seven months for families who can not live in their apartments, accommodation with bed and breakfast in hotels "Novi Sad" and "Park" is offered.
"The City, through the Center for Social Work, pays a fine of 110,000 dinar, which is in proportion to the lease of six months of the average apartment in that place," Vucevic said after the meeting with damaged families.
They emphasize that they want to show solidarity and that these people are not alone, and that we all solve problems that are created together.
Unfortunately, Vučević noted that no agreement was reached between the investor and the damaged fellow citizens about the accommodation he offers.
"It would be much easier for us to solve this in their private obligations, but they were not able to find a common language," said the mayor, who also thanked all businessmen from the city who offered help.
According to the prosecutor's office, with the approval of the competent prosecutor's office, the investor of the Dositejeva 9 facility, in the presence of the police and the district court expert, came to assess the damage suffered to start the remediation project of the existing facility.
"It's a good sign, but it's not enough," Vucevic said.
The city council for inspection matters also ordered the investor to cover the existing gap, ie the dam that caused the damage, and gave the deadline until August 28 to restore it to its original state.
"I am talking only about the country, not about the facility. The facility must be designed for the project, and before that, came with the approval of the competent prosecutor's office, accompanied by a law expert, to the site of the site to the damage incurred by determining an independent professional "says Vucevic.
"The case is now in prosecution and I think this is a good example of showing the responsibility of those who work illegally and illegally, and that it is a very clear message that you can not work in Serbia without a building permit, because when you work without permission such things, "the mayor emphasized.
Source link