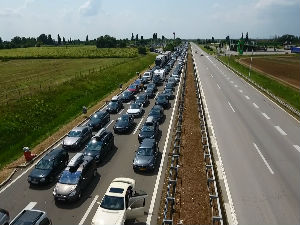 Most highways are in the direction of Croatia and Hungary, while a large number of vehicles are registered on the roads to Macedonia, Bulgaria and Montenegro.
At the passage of Horgos, at the exit, the vehicles wait for about four hours, and more is waiting in the space at the entrance to Hungary.
From AMSS, drivers are advised to use alternative crossings with Hungary, such as Kelebija and Backi Breg, which are open 24 hours and where the retreat moves at intervals of half an hour to an hour.
In the direction of Croatia, in Batrovci, the rest are at the exit at about seven o'clock. However, the intermediate zone between Serbia and Croatia is full, which extends the waiting time.
At the crossing sites Šid and Sot, a departure waits for an hour.
Alternative border crossings with Croatia are Bačka Palanka, Ljuba or Bogojevo which currently have no longer residence.
Presevo waits for about an hour to enter the country, and the column of the vehicle is two kilometers long. At the exit from Serbia there are ten minutes to leave.
Half an hour waiting to wait for drivers at the entrance of the country from Bulgaria to Gradina.
At crossroads towards Montenegro, intensity of traffic with holdings up to half an hour.
Source link