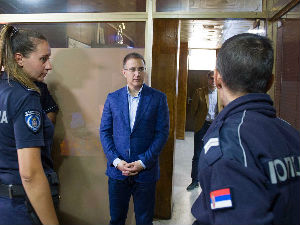 "There is no magic wand, there is no such law, formula, mathematical equation that will completely solve the problem of hatred in a family and when there are such complex relationships that sometimes end with the most serious crimes." There is no formula, but there is a lot of police work and serious powers in accordance with the law on the prevention of domestic violence, "said Nebojsa Stefanovic.
Stefanovic stressed at the Criminal Police Academy that in the fight against domestic violence it is necessary for the whole society, not just the police, the prosecutor and the court, to tackle the problem.
"Do not run away from responsibility in this fight, because the responsibility of the police is not only big on the basis of the law, but also on the role that society has in it." Sometimes decisions to leave someone from the apartment are not easy because you influence the lives of families, but at the same time protect your life, "Stefanovic told trainers.
The minister pointed out that the police officers' decisions saved many victims not to be beaten, stabbed or killed.
Recalling that the law on the prevention of domestic violence came into effect on 1 June last year, Stefanovic noted that he encountered many cases in the year and a half of execution and he saw where the police made mistakes, what worked well and what was what could have been done better and what could be better.
"In the course of this year I realized that there were also omissions, mostly omissions if we misunderstood someone who was looking for help, sometimes there is a call for help and a look, behavior or something else, but that is why the policeman must are who feels he sees the problem, who can predict it and imagine how to solve it, "Stefanovic said.
He told trainers that he would always have the support of the state in the fight against domestic violence, because Serbia is not a country in which we want to cultivate a nation that will be counted and which justice will be taken into its own hands.
Source link