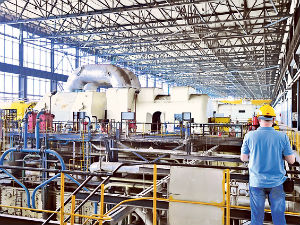 Milorad Grcic said he was visiting Dnevnik RTS wants EPS engineers to search in electrical engineering, mechanical engineering, mining, construction, but also IT, technologists, economists and lawyers.
"In the past few years, EPS has lost a significant number of people who have managed the system and are in the situation, that is, about production, that we do not have people who can make production," said Grcic.
He says it is necessary to build a series of substations, which experts believe is necessary.
"Expert people have worked and worked today, but a significant number of people have stopped and we have problems, we have announced a competition for the admission of 163 young experts with the best grades at faculties and we plan them by the end of the year. years, "Milorad Grcic explains.
He adds that both trainees and experienced experts are needed.
"We are looking for exclusively young people, and if everything goes, we will repeat this process in the coming year." We will receive 90 engineers from the electrical and mechanical profession, and the majority of people will be admitted to production, we will employ people everywhere in Serbia, a newcomer who wants to reach his working life in EPS, "said Grcic.
Hope, it says, that a larger number of people will apply.
"This is the beginning, they will have a chance and our goal is to enter into a permanent employment relationship", Grcic explains.
"Lack of installers is a big problem"
It indicates that as a secondary expert the problem is the lack of installers.
"They do not have enough in Serbia and we are missing a few hundred installation programs" We are preparing a way to announce a competition for them and we will also ask for a license to receive the installer ", Grcic out.
He says the competition is in line with what the IMF recommends EPS.
"They want to raise the level of professional people, which is not what we think, we have a significant percentage of highly qualified, but EPS has left nearly 3,000 people in recent years, and most of them have the right to retire," Grcic said. .
He points out that for the IMF of 2017 the percentage of payments would be 95 percent, and that he was more than that – 98.5 percent.
"So EPS is done seriously, we have government support and we need to rejuvenate staff in all sectors," Grcic said.
The competition for the admission of 163 young professionals is open until 19 September and the employment relationship is based on two years.
Source link