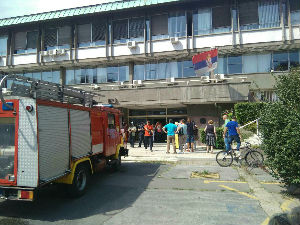 As the Emergency Relief Emergency Assistant Mirko Lutovac told the RTS, men who are about 30 years old and about 50 years old have died.
The MIA announced that they had died from the effects of suffocation.
The members of the Emergency Situations department immediately came out of the scene with five vehicles and 18 firefighters and when they searched the building, they found two men in a state of rest.
The men were transferred to the emergency aid and after an attempt to resuscitate the death of two employees of a private company, who most probably did a fire extinguishing test.
As RTS discovers, carbon monoxide from the fire extinguishers is exhausted.
RTS Reporter reports that more than 50 people have been evacuated from the National Library building.
The members of the Ministry of the Interior will continue to provide the field until an investigation is carried out.
The police do not allow access to the facility.
The causes of the gas leak will be determined later by the investigation, according to the MUP.
Source link