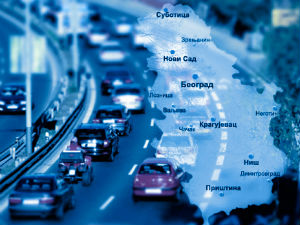 At the cargo terminals with Croatia at Batrovci there are about 300 on the exit and 240 minutes in Sid, while with Hungary on Horgos trucks wait about 120 minutes.
According to the latest data from the management of the border police, there are no longer any detention centers at the terminal terminals at our border crossings.
According to the latest information obtained from JP "Roads of Serbia", there are no retention at toll stations.
Stable weather is beneficial for drivers, but also for road users who use the last days of the year for regular maintenance and repair of roads.
On some roads the marking of horizontal traffic signage is carried out, in some parts it is done to replace the worn asphalt and the damage to the carriages created in the summer months, the banks, slopes and remediation arrange the landslides.
AMSS warns that this often leads to a delay, which requires extra patience for drivers, with more attention and an appropriate way to control temporary traffic signs and equipment.
From today until 21 September due to work on the replacement of a damaged asphalt road along the route between Obrenovac and Belgrade (trunk road and line 26), on the route between Umka and Baric, traffic will be slowed down by alternating vehicle leaks using appropriate traffic signaling.
From today, works will be carried out on the national road II A, line 149, on the national road IIA line 149, Bulevar patrijarha Germana (put Avalski) on the corner with the street Vasa Čarapić (municipality of Vozdovac).
From today until 19 September, during the period from 09.00 to 14.00, regular maintenance will be carried out on the part of the trunk road I of line number 1, on the route from the Blue Bridge to the loop "Lasta", in the direction of Nis.
The works are carried out in the middle belt with movements and during the execution of works on that part of the road the traffic will be closed on the last left (transport) runway, and the traffic will take place through the carriageway (middle) and the right hand. end stop (stop).
From 12 to 20 September due to the work on the assembly of lighting posts in the middle of August, on the Belgrade-Novi Sad motorway, near the "Novi Sad jug" toll-station (trunk road I A-line no. 1) for traffic will be closed the conveyor belt, in the direction of Subotica to Belgrade, and the traffic takes place on the right (lane) lane.
Source link