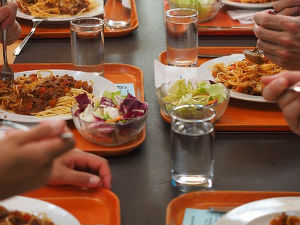 The Rulebook has been prepared by the Ministry of Education in collaboration with the Ministry of Health and the Institute of Public Health "Dr. Milan Jovanović Batut". Foods that are not recommended in infant nutrition, such as puff pastry, fries, soft drinks, sweets … are also mentioned.
Adviser to the Minister of Education Gordana Kosanovic says that these schools will have the opportunity to influence the development of healthy habits in the diet of students.
"The process of changing eating habits is of course long and will be unsuccessful if we do not have the support of parents here, it is not enough that only children in school learn how to eat healthy eating habits, but they have to support their parents at home, "says Kosanovic Tanjug.
This mainly concerns the food that the school supplies to children who stay in longer periods.
The novelty of the Rulebook is that the school is obliged to care for children who are allergic to a certain type of food.
It suffices that the parent provides the school with medical documentation and a menu that is put together by a food specialist, in which the student prepares the diet.
"The regulations clearly stipulate who organizes, who practices and who controls nutrition at school, and for the organization of student nutrition, the director and the parents' council are in charge," Kosanović explains.
The regulation provides that the school can organize nutrition for students in various ways – in their own kitchen, at other institutions dealing with education or at a catering company.
"A small number of schools, 20 percent of them, have kitchens that are in a functional state and meet food-safety standards, we have enabled schools with kitchens, as well as playgroups or student and dormitories, which have the capacity to prepare a greater number of meals, they can do this for neighboring schools, "Kosanovic said.
The Ministry of Education is ready to help, deliver a delivery vehicle and thermos containers in which food is delivered, to make meals safer and safer.
The school dietary rules include nutritional recommendations, the types of foods that students can use, the amount of food on the basis of age, but also contain recommendations that foods should not be included in children's diets.
Schools often provide space for bakeries or shops where students can buy snacks, and usually they are flaky cakes, snacks – unhealthy food.
Our interlocutor says that the Nutrition Rule "does not alienate bakeries from schools", but that the school board and parents now have the option of asking tenants when renting space that they do not sell foods that are not recommended by the regulations or that they are less be represented.
Source link