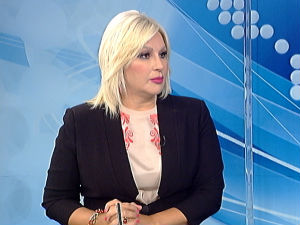 Zorana Mihajlovic, who visited RTS Dnevnik, said that an additional contractor working on the clearing was accepted and that a full bill of "Corridor of Serbia" is expected, and the majority will be paid by the contractor.
He points out that this is the longest slope. Mihajlovic says that the Corridor 10 section can be completed within the deadline.
She states that the help was requested from the BIA and that this was not the first time. As he says, because things that are not clear are going on, there is responsibility and answer to the questions why they are pre-processed, how long we have taken care of the slope and how it can be solved.
Mihajlovic says that the ministry will provide all necessary information. He adds that he will see if there is a responsibility of those involved in designing.
The minister said that Grdelička goris is the most difficult construction site in Europe. She adds that she has listened and read so much. However, experts who explain what needs to be done say that they believe in the profession.
He says the mistakes are possible, but there are those who will determine the responsibility and then the public will be responsible.
Mihajlovic said it is important that everything is completed and remedied as quickly as possible, and emphasizes again that the corridor must be safe.
When it comes to the extraordinary control of the bridges that it ordered after the tragedy in Genoa, Mihajlovic says that bridges in Serbia are regularly maintained, but that the purpose of this action is to show in which state.
He adds that bridges in Serbia are safe, but that needs to be seen if extra maintenance is needed.
Teams were made and in the first place Pančevački most, Gazela and Most were checked at Beška because of the traffic frequency.
Soon more extended.
Source link