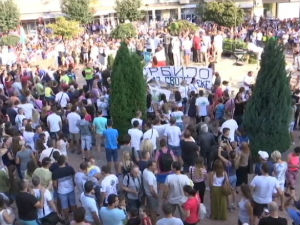 The opponents of the mini-hydroelectric power station arrived from all over Serbia. They say their goal is one – not to take a few drops of satroplane water.
"Every derived mini-hydro power plant that has been built so far has resulted in total destruction of biodiversity," said Aleksandar Panić of Pirot.
"When the Stara river is being reconstructed, the dead mountain and the people left behind on Stara Planina have no basis for their existence," says Prof. dr. Ratko Ristic, professor at the Faculty of Forestry in Belgrade.
The spatial plan of Serbia provides for the construction of more than 60 mini hydropower plants on Stara Planina. In the local self-government of Pirot they say that they also have to protect the river, but also have to worry about the development of this region.
"Stara planina is a protected area and the Institute for Nature Protection, Water Management of Serbia and the Ministry of Ecology are worried about it, and I think these competent institutions are to say whether it is possible and under what conditions to build power plants or not possible, "says Vladan Vasić, Mayor of Pirot.
Minister of Environmental Protection Goran Trivan told the RTS in a telephone conversation that he continues with his opinion, which he expressed a few months ago, that it is against the construction of mini-hydrocranial in protected areas.
Source link