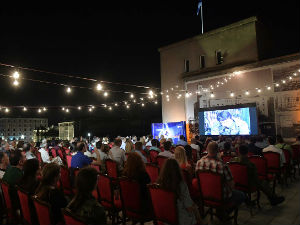 After more than two decades, the terrace of the Serbian Army House, once known to the people of Belgrade, is a very popular "cinema under the clear sky", once again open to the public, and on that occasion the program was enriched with black- white films from the Vojnofilm Center "Zastava Film".
Representatives of the Ministry, the Serbian army and regular visitors to cultural events in the Belgrade Army House attended the screenings, as announced by State Secretary Aleksandar Zivkovic and Assistant Minister of Defense for Material Resources Nenad Miloradovic.
Emphasizing the importance of media promotion of voluntary military service, Živković greets the audience on behalf of Defense Minister Aleksandar Vulin, stressing that the videos "Taking a Step" view the benefits and values ​​that young people acquire when they Serbian army come.
After three months of individual specialist training, they are referred to units where they master more levels of training and perform tasks within their units. One can say that this also represents a certain form of socialization of young people who, through collective spirit and common values, seek and strengthen their personality, Živković said.
With this media campaign we invite young people to apply for voluntary military service with weapons, with which they overcome new challenges in creating a safer and better Serbia, emphasized Zivkovic.
Head of the Public Relations Department of the Defense Ministry's battalion, Petar Bošković, pointed out that the renovation of the Army Center from the ground floor to the roof – its galleries and depot, with nearly 2,000 valuable and unique paintings, the property the artistic ensemble "Stanislav" Binički ", even once a very popular roof terrace and wall clock made in 1936, invested over 40 million dinars over the past decade.
This building, formerly the War Room, was left on the amanet of our ancestors, famous warriors of the First and Second World War, and in 1999, during the bombing of Serbia, it was one of the largest media centers where journalists from the country and world was quick to learn the facts about the consequences of aggression, Boskovic said.
As a tribute to the former open-air cinema, films from the Military Film Center "Zastava Film" in black and white "Hygienic Customs of Soldiers" and "Masking" were shown and guests were entertained by members of the Chamber Orchestra of the Artistic Ensemble of the Ministry of Defense "Stanislav Binicki".
Source link