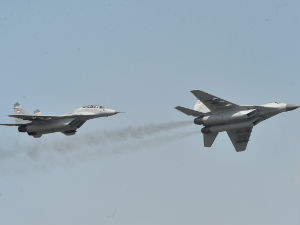 Two "miga 29", which have been repaired in Serbia, are now part of the air force of Serbia.
Minister of Defense Aleksandar Vulin and representatives of the Serbian Armed Forces, as well as Russia's ambassador, Alexander Chepurin, attended the ceremonial reception of "migrations" (a single and a two-seater).
In October last year, six "migrations" were partially delivered to Serbia.
Airplanes were presented on 20 October in a parade on the occasion of the Liberation Day of Belgrade in the Second World War. Then it was announced that it would be refurbished with another four "miga 29" bought in 1987.
The repair and modernization of all ten "MIG & # 39; s 29" costs 185 million euros.
After the landing of two mega "four plus" generations, President Aleksandar Vučić raised the audience and invited young people to study at military schools and military institutions, where he said, as he said, a better future and better living conditions would have .
Speaking of the armament of the Serbian armed forces and the readiness of our country to combat, Vucic said that today's situation is not comparative with the previous period, and that the difference is huge.
"It is now heaven and earth," said President Vucic.
He reminded that we received these aircraft from Russia and that their overhaul and upgrade were paid and made in Serbia.
He continued his journey at the airport of Batajnica, another six "misses" of Russian and Serbian experts – he said that there are a total of eight who will fly in Belgrade for the first time in a parade in early November.
"Eight Serbian pilots fly in the Serbian" Migration 29 "and we also have" MIGs 21 ", but this is not for comparison," Vucic said.
"Mages" were taken by heroes from the NATO aggression period
The president proposed that these aircraft and another six aircraft, which are currently being repaired, are named after the names of the heroes from the NATO aggression period.
"My proposal, and I hope that the Serbian forces will accept this, that these aircraft are named after the names of the heroes from the period of NATO aggression, such as Velickovic, Djuric, Radosavljevic, Pavlovic … All those people who life, "said Vucic.
"Today, the colonies Krnjajic and Jokic, who know what they come in, on what machine and what they defend, what they protect and what they guard …, protect the citizens of Serbia, protect our country," said Vucic.
He added that he is grateful to the chief of the general staff, Ljubisa Dikovic, because, as he said, we had a "mig 29" and today we have three resources, we will have six for 10-12 days, we there will be nine at least two months, and at least eight will fly in November at a major rally organized here in Belgrade.
"This shows how much Serbia is strengthened, advanced, how strong it is and within 12 to 14 months we have paid and we get seven helicopters Mi 34 and Mi 35, these are the best attack helicopters … It is a fascinating machine that works a huge job, and we take three more types of Mi 17, called "Devil & # 39; s Chariot & # 39 ;, and there are nine A145" s, that is something completely different: our army has the blood picture now completely changed, "Vucic said.
Thanks to the Russian president Putin, he said, as he said, the development of the Serbian forces, as well as Sergei Shoigu, Russian soldiers and experts, working together on the fighting spirit of our army with our experts, said Vucic that we were four or five years ago We did not believe we have not dared to dream that our economy will recover so much and that we will have such a force today.
"I know when people talk about economics turn their heads, but it was not, today we would not succeed," said the president.
Point out that our army today is not for comparison, it is, as he says, heaven and earth, "said Vučić that the problem is the lack of younger generations.
"We have great people, beautiful guys, but we miss the younger generations, we will have money, but we are missing people, so we will reach them with higher incomes, which will be launched by the end of this year, we will build of apartments for officers, non-commissioned officers and soldiers, but we will work to improve the school system and attract young people, "the president said.
Vucic invited young boys and young people to study at military schools and military institutions, where a better future awaits them.
"Our army will today be powerful and powerful wings of Serbia and can protect our country much stronger, more serious and more powerful than it used to be.
I am proud of you, dear soldiers, I wish you many successes and many flights to keep our airspace. I hope we will not have any enemies, but if we have it, I hope you will be able to resist them, "said Vucic.
Source link