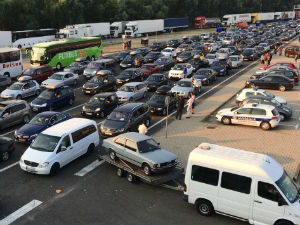 At the border crossing Horgos the situation is the most critical – at the exit from Serbia the column is about three kilometers long and will increase.
It waits for about two hours at the exit of the country and the crossroads to the Hungarian crossing of Reska is completely filled with vehicles.
There are still two hours waiting for the intersection of the Resa, so it is necessary to wait a few hours until the entrance to Hungary.
Agnes Pastor, commander of the police station at the border crossing Horgos, told RTS that more than 30,000 passengers, 8,000 vehicles and more than 100 buses passed the Horgos Pass for 12 hours.
It works on all tires and it is expected to be busy until Monday, said Pastor.
A similar situation on Kelebia, where it waits for about two hours.
This is due to the fact that the police on the highway occasionally lead the aliens to Kelebia to dismantle the Horgos pass.
Horgos 2 and Bački Vinogradi are also expected to be loaded for loading.
The authorities recommend to cross Bački Breg and Đal, where they wait an hour even during the biggest crowds.
When it comes to other crossings, Batrovci waits for about two hours at the exit, at Gradina at the entrance for 40 minutes, while Gostun waits for an hour and a half at the exit of the country.
Source link