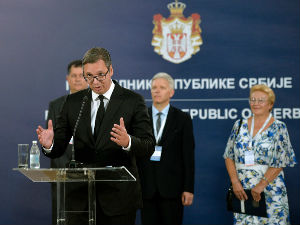 "It seems to me that when I look at it, everything is reduced to 140 characters, to shortened versions of knowledge and information, that it's time for you to tackle the work that Slavicism is made," said Vucic reception in the presidency of Serbia, for participants 16 The international congress of slaves.
"It is time for a new enlightenment, new pilgrims of the spirit.What was our Dositej Obradovic, who knew more than 200 years ago what the problem was, and when he said: & # 39; Books, my brothers, not the bells and the prayers "as if he had the same for us, our time was occupied by various bells and whistles and their rhetoric that says nothing," Vucic said.
Vucic thanked the Slavs that Belgrade and Serbia were such an important subject in the capital and asked those who came from other countries to feel themselves in Belgrade and Serbia as their own home.
"Especially friends from the territory of the former Yugoslavia, with whom we have not always shared the same values, the same view of the past, but I am convinced that we are able to build a shared, more prosperous future," said Vucic.
The president said he is proud that Belgrade is organizing such a congress, saying that it has an easy and beautiful duty to greet participants and wish that the new seven decades of Aleksandar Belić do not wait until the demonstration is held again in Serbia .
According to him, this meeting is a huge opportunity for Belgrade to legitimize itself as a worldly Slavonic philological center.
He said that he read somewhere that Slavicism is not particularly important, which of course is not true and is good, says that Slavs and Serbia have been able to recognize this.
"It is a big and important thing, a great subject for the whole world: the world can not exist without Slavicism, nor Slavicism without the world, it is a huge legacy of the Slovenian language, a great intertwining of the western and eastern thoughts and language, language and thought, "said Vucic.
Through his work, the Slavists reveal, as he explained, all mildly bursting cultures.
Vucic pointed out that there is a huge corps of the Slovenian people, who now have a third home and for about half of Europe.
He stressed that there was no region where the Slovenian peoples did not reach the heights.
That is why, according to his words, Slavic can not be a small and irrelevant object and thing.
"Congress of Slavs is the first determinant for defining identity"
Dean of the faculty of philology in Belgrade, Ljiljana Marković, pointed out that the fact that Serbia is part of this rich language, thinking, literary and cultural world, gives the Congress of Slavists and Belgrade the first determining factor for defining and consolidate our identity.
"For the first time, Slavicism has become one, a developed, powerful humanistic science that stands firmly in function of the social, economic and cultural revival of our societies, economies and states," Markovic said.
In the name of President Vucic, Markovic presented a series of books in Russian that represent Serbian literature, science and culture.
The president of the Slavic Committee Bosko Suvajdzic said it is a great honor that the Slavs are today president.
"Without the honest and noble support of the congressional president, Aleksandar Vucic, this congress could not be held in this form." We are here to discuss a number of scientific topics, to promote science, culture and education and to build the bridges of the scientific fusion, "said Suvajdzic.
According to her, it is difficult to judge all aspects of the Slavs Congress, but this visit to the presidency raises the significance of that meeting to a higher level.
Motoki Nomaqi from Hokaido University in Japan says it is a great honor for the Japanese to participate in this congress.
"Serbia is my second homeland, so I am very happy to visit Serbia," added Nomaći.
"This is an exceptional opportunity for us Slaves to be together, to meet fellow colleagues about whom we only know by reading their books, scientific articles. Now we can meet and talk about our research," Agnes emphasizes. Kriez from the University of Cologne.
About 1,000 Slavs from 43 countries take part in the work of the Belgrade Congress.
Source link