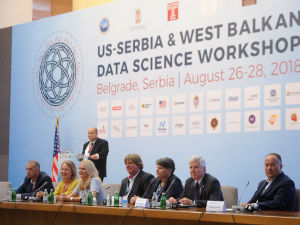 Mladen Šarčević said that the strong technological and economic changes with which contemporary society is concerned have brought about changes in almost all areas of life and were the most important answers in the field of science and education.
"The bill on the science fiction of the Republic of Serbia has been completed and we want to deepen our cooperation with the US." The final touches are being put on the completion of the map of the road of research infrastructure and the new law on scientific research activities. Sarcevic said.
According to him, a completely new model of science funding is being prepared by the aforementioned legal documents.
American ambassador Kyle Scott reminded great scientists of the Serbian origin Nikola Tesek and Mihail Pupin, who had friendly relations with the then president Woodrow Wilson in America, recalling that last month the centenary of raising the Serbian flag in the White House was highlighted.
He urged young scientists to work together, to follow the path of Mihailo Pupin and to develop bridges of cooperation between the two countries and scientific institutions.
Otherwise, over 50 scientists and researchers were selected by the National Science Foundation of the United States (NSF), a unique event for the scientific community of Serbia and neighboring countries.
"Serbia signed the Intergovernmental Agreement on Scientific and Technological Cooperation with the US in 2010, but afterwards there were no noteworthy practical steps This workshop represents the first important step towards a possible collaboration of our science with the most influential and most advanced scientific community in the world ", says Aleksandra Drecun, chairman of the association" Intersection ", has been working on the realization of this cooperation for several years.
American, Serbian and regional researchers will discuss how a new collaboration can be established between Data Science, mathematics and science that generates large amounts of data and for which advanced methods are needed to process them.
It will also be said that the mechanisms for cooperation between the Serbian research institutions and the NSF, which is the most prestigious institution of this type, as well as the possibilities to organize joint scientific projects, are being strengthened.
The National Science Foundation (NSF) is the independent federal agency of the United States to promote scientific progress.
It supports fundamental scientific research with an annual budget of 7.5 billion dollars (for 2016).
The organizers of this scientific meeting are the SANU Institute of Mathematics, the Archaeological Institute and the Center for Science and Innovation Intersection with the support of the Ministry of Education.
Source link