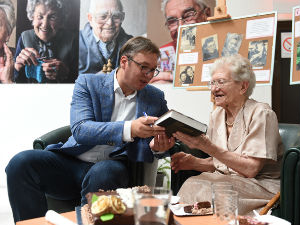 "It means a lot to me that I celebrate the birthday in the presence of the president, a respected and respected man, what has done for Serbia, the Serbian people, struggling, what is being said to the last drop of blood," Ziviceva said, who is known at home to read it.
She told the young people to care for her mind and body, if they wanted to live long, and she, she says, lived "normal" like everyone else.
She grew up in a house where she was nine, finished her school and then spent most of her working life in the Graphic Institute and State Printing.
The president cut off the first part of the birthday cake and presented the present to the celebrity.
The party continued in the café in the Gerontological Center called "Alzheimer & s Cafe" with the poem This is Serbia and with the socialization of the tenants of the Center.
Director of Belgrade Suzana Mišić Gerontology Center, which President Vučić received during a visit to the center of Bežanijska Kosa, said that the marking of Živić's birthday was one of the reasons to launch the new "Network 90 Plus" program.
According to her words, this program implies that users of centers over the age of 90 can receive more intensive support from professional employees via a free telephone.
Mišić thanked the president for his efforts to make the country and future generations better.
"We are mature and mature people, truly and above all, we can appreciate our efforts and perseverance." We are extremely grateful and here we are, if you estimate that our help is ever needed, here this army of us is almost 14,000 available to you. "said Mišić in her speech to the president.
She pointed out that Vucic, as prime minister, initiated an initiative that is very important for employees in the social security system, namely to improve their material position.
"Thank you for starting the initiative to understand the material position of the employees and their number, because the social protection system consists of people, and without enough people we can not do the job well," said Misic.
Source link