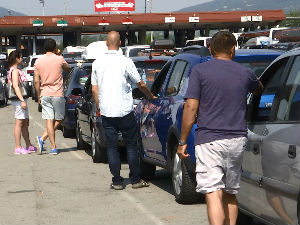 There is also a detention at the intersection of the Bački Breg, where the exit is waiting for an hour and a half.
At this time the recommendation for entry into Hungary is the border crossing at Kelebi, because the retention at this crossroads is no longer than half an hour, while the smaller passes 19-19 hours passing Horgos II, Djala, Bajmok and Backi Vinogradi.
At the Batrovci border crossing, the retention often varies, the inter-zone with Croatia is quickly filled, which considerably prolongs the retention at the entrance to Croatia, and it is a recommendation to drivers to use alternative crossings.
At this moment passengers on Batrovci wait one and a half to two hours.
During the day, variable waiting times are expected by the drivers at the Šid border crossing. It is therefore necessary to use the passes Sot, Ljubu, Nestin or Backa Palanka, where the rest is shorter.
Improved traffic at the entrance of the country from the direction of Bulgaria and Macedonia.
The situation changes from time to time with Gradina and is now being held for about an hour, reports the RTS reporter.
There is no further detention at the exit from Serbia near Gradina.
According to customs data, Gradina exceeded more than 80,000 passengers in 24 hours.
Source link