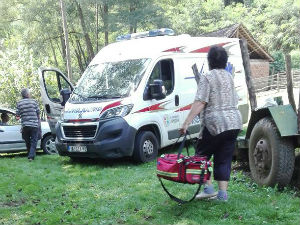 "The first surgical procedure was initially done, an attempt to revascularize, however, due to the infection and necrosis of soft tissues to save lives, amputation was performed above the elbow." The patient is currently feeling well, the recovery is expected and is currently not life-threatening, "says Sasa Sretenovic, a vascular surgeon in" KC Kragujevac ".
Angela was attacked by an angry dog ​​when she tried to force him out of a chicken coop, in which she had many chickens. Her screams heard her cousin from the neighboring garden, her granddaughter, who saved her grandmother.
"Everything was very dramatic, terrible, I did not know what to do when I saw an angry dog ​​about my grandmother rubbing my flesh from my hand, I took the first hook and hit him hard, then several times, to make sure to be that it was not for me to attack, "said Marija Jocic, granddaughter in the breath.
She added that it was fortunate that she was in the neighborhood and that the emergency aid came quickly.
Source link