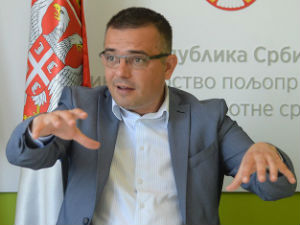 Nedimovic indicated that Bačka and Srem, the largest corpus of pig farms, are the most threatened for this swine disease.
"People can be calm because this disease is not dangerous for them, but it can be a problem for the economy of one country because the medicine does not exist for this disease," explains Nedimovic.
The minister recalled that the African plague first appeared in Hungary, and its extension prevents, as he said, a happy circumstance – a fence that was set up for migrants. This fence also prevents wild boar from passing through our area and spreading diseases.
As far as Romania is concerned, the situation is very different, because part of the border is open and a threat to nature to enter our territory, Nedimovic remarked.
"We have set up a national center that deals with the problem of African pigs and now take all preventive measures for a year," said Nedimovic.
He recalled that Serbia banned the flow of goods of animal origin from Hungary and Romania.
"Here is the most important preventive measure to prevent the arrival of goods that may have a dubious origin and that could indicate the presence of this disease", the minister remarked.
In Hungary, the disease started to bleed, Nedimovic said, and a few days ago Romania was discovered in several other locations.
Source link