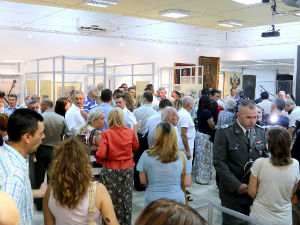 State Secretary for Defense, Aleksandar Zivkovic, says that the Military Museum has always been recognized as an important segment in the culture and memory of the nation, and that it has presented the military and its liberal tradition in the eternal struggle for freedom and independence through presentations and exhibitions.
"The rich history of this cultural symbol of our city obliges us to continue with the tradition of evaluating, caring and preserving everything that the Military Museum will represent in the future, so that it would remain a modern museum institution," Zivkovic said.
The head of the Military Museum, Lieutenant Colonel Gradimir Matić, said that the exhibition, which is open today, is chronologically structured through periods, that is, the collections and personalities illustrate the development of the museum.
"The introduction to the exhibition is dedicated to the Obrenovic dynasty, which founded the Military Museum and the Karadjordhev dynasty, which opened the first permanent setting," Matic said, adding that the exhibition talks about the development through six thematic units. of weapons, the fighting modes, medieval Serbia and Europe, the Serbian uprisings, the Principality and the Kingdom of Serbia, the Kingdom of Yugoslavia, the Second World War and the SFRJ, as well as the personalities that marked certain periods.
Matic pointed out that the exhibition was devoted to the generations of museum staff who contributed with their work and results to the duration of the Military Museum, as well as to all those who gave gifts and gifts to the rich and varied museum collections.
Many items that were found during the exhibition "140 years of the Military Museum" have rarely been exhibited until now.
For the first time, in honor of the birthday, the prehistoric spears, a ring from the 10th century, Russian chest emblems, flags of cats, costumes from Bosnia, the dolma belonging to the participant of the Herzegovian uprising Arseny Ivanov Miskin, English Orders sv. Mihailo and Djordje on the chain, Ordinary Star of the Duke or Radomir Putnik, uniform of the Austro-Hungarian clerk, as well as a part of the original photo's.
The exhibition is the result of a teamwork that was coordinated by museum consultant Anđelija Radović, who included all members of the Military Museum collective.
The Military Museum in Belgrade, located on the bastion of the First Southeast Front of the Belgrade fortress, was founded on 22 August 1878 by the command of Prince Milan Obrenovic on the proposal of the Minister for Military Colonel Save Grujic.
On that day, Prince Milan Obrenovic announced a proclamation of the signing of peace between Serbia and Turkey, or the independence of the state of the Principality of Serbia. This also testifies to the importance of establishing cultural institutions in a newly liberated country.
On the occasion of the 140th anniversary of the existence of the Military Museum and the Jubilee Day, the ceremony academy will be held Tuesday at the Garda House, attended by the Minister of Defense, Aleksandar Vulin.
Source link