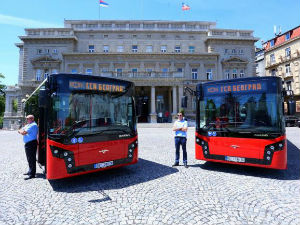 Last year 288 drivers left the SAP, including those who received a pension benefit, while 206 drivers left the company from the beginning of this year, the company said.
"We are missing about 200 drivers, but how we can compensate for this deficiency by internal reorganization, redistribution of work, that it does not feel in traffic," he says. Tanjug pi-ar manager GSP "Beograd" Slavica Stevanovic.
The average age of an SAP pilot is 43.7 years old, which means, well, because they are relatively young people and states that everyone who is interested in the job of the driver goes through her, as she stated, strict rules and procedures.
"They have to go through psychological tests and other tests, it's a responsible job, so we have to be very precise in choosing," Stevanovic said.
She stated that GSP "Beograd" has a continuous open competition that was published on the site of that company and invited everyone who was interested in the D-category and who meets the requirements to apply.
"We have a contract with one company and it is mandatory to deliver, license, train and prepare 200 drivers." They will sign a two-year contract with the GSP and the first directors must arrive in September. fluctuations are great, people leave and come. That's right, "said Stevanovic.
Asked about the condition of the fleet, Stevanovic said that the technical inspection of the vehicle had taken place six months and that the buses were in good condition and were prepared for the winter timetable.
She noted that, in addition to the technical inspection carried out twice a year, a daily check is carried out on vehicles that are run during the night when vehicles are removed from traffic to regulate the tires, brakes and engine operation. , and when they are cleaned, are filled with fuel and are prepared for the morning closure. in traffic.
"No vehicle can get into traffic without a travel order that needs to be signed and certified," says Stevanovic, adding that the controls of the vehicle are very detailed.
She recalled that from June 22 the summer season was in effect when there were far fewer vehicles on the streets for holidays and school breaks, and that it was used to drive cars continuously and sequentially in the garages and to prepare them for the winter timetable, or for the next 10 months.
She said that from September, according to the planned schedule, 1,335 vehicles will depart on the streets of Belgrade, of which 870 GSP vehicles, most buses will be 645, then 135 trams, 94 trolley buses and four electric buses.
"About 476 buses are delivered by private carriers, we're done, buses are naturally ready and will work according to the plan," says Stevanovic.
Source link