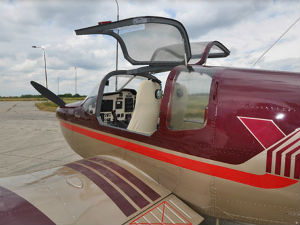 It is a single-engine aircraft, a low-skip, designed for training, sports and tourist flying, air-taxi and panoramic sightseeing. Also one of the characteristics of the aircraft is that it can be changed quickly.
"Program 41 M", better known as "owl", is financed by the company "Jugoimport SDPR" and "Utva" has entered into design, modification, production of prototypes, testing and certification of aircraft.
After more than 30 years, Utva has succeeded in independently designing, building and testing a new aircraft.
"Owl" is a modernized version of the basic aircraft "utva 75", which is intended for initial training, sport and tourist flying.
An aircraft can optionally be used for exploration, aerial shots and other operations.
It can also carry weapons with the installation of the right equipment, it was published on the website of "Jugoimport".
The "owl" is a plane with a single jet, a low profile, a full metal shell construction, with an engine block and a composite time zone.
The plane is a four-sided "side by side" configuration, with a fixed fall, a kind of tricycle.
Configuration of the stock trap enables landing on asphalt and prepared grassland tracks.
The aircraft is equipped with a single, four-cylinder, air-cooled engine and "constant speed" elis.
The mass of the empty plane is 750 kilos, the length of the aircraft is 7.11 meters, the wing freedom is 9.8 meters and the height is 3.14 meters.
The maximum horizontal speed of the aircraft is 230 kilometers per hour, the power is 210 hp and the persistence of the aircraft with an economic speed of 4.2 hours.
"Owl" will make a test flight tomorrow at Pančevo airport, which will last for an hour, and the leading designer for the aircraft design Aleksandar Petrovic will present plans for further work and flying, as well as new projects of the company.
Source link