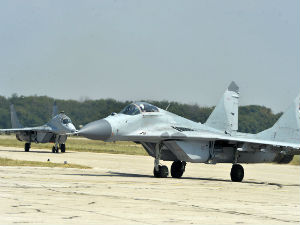 On the third day of the bombing of the two pilots they went on a mission together. One survived. For the youngest pilot "miga 29" Zoran Radosavljevic showed that it was the last flight.
"Because his last words were following my order:" Run away, rockets at us, "he said," I'm coming up against the clouds ", I think he's flying the plane. The gellers, it was exactly possible to see where the rocket struck and this happened half a meter or a meter above his head, "explains Slobodan Peric, colleague Zoran Radosavljevic.
"When I told him," Son, not like God, I beg you to fly, "he said," Bre, mother, you know you have a son who is a pilot. "I do not drive with a tractor, but with a plane", he recalls. Rada Radosavljevic, the mother of Zoran Radosavljevic.
In the same way, his colleagues also remember him. Colonel Milenko Pavlovic and his decision to continue fighting with NATO aircraft above his birthplace Valjevo instead of a younger colleague.
"Paja comes and says:" My mother is your boy, you will not be guilty, I will. "We heard him, we heard part of the conversation with the order, that 10-12 minutes lasted and then silence. The last thing we heard was: & # 39; They have me & # 39 ;, "says Zeljko Tasendic, colleague Milenko Pavlovic.
The son of Milenkovic, Srdjan Pavlovic, says that when he saw four colleagues from daddy who went to their entrance, he then assumed that something was wrong.
"When we opened the door, I was only the eldest son of Srdjan, and Srdjan opened the door and that cry," added Slavica Pavlovic, the wife of Milenko Pavlovic.
Lieutenant Colonel Ljubisa Velickovic did not survive the bombing of Serbia – during his visit to the unit, nor Lieutenant Colonel Života Đurić, whose son today speaks of the proposal that one of the new Serbian "migrations" flies under the name of his father.
Of course he will always be in our hearts and memories, but there are many people who have never heard of the life of Djuric and I hope that at least some of these people will know who Zivota Djuric and what he did for his country. "says Aleksandar Djuric, son of Zivote Djuric.
For the country, 41 pilots and members of the PVO were killed during the bombing.
Source link