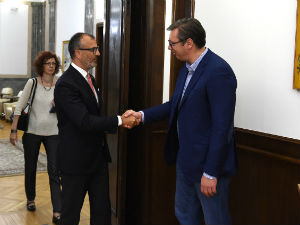 President Vucic stressed that the process of joining the EU is an investment in peace, stability and general progress of Serbia and the entire region, said the president's media cooperation service in a statement.
"Serbia is ready to work with the EU to fulfill all its obligations in the negotiation process, especially those in Chapters 23 and 24," said President Vucic, and expressed the hope that the momentum of opening negotiation chapters in the next period will adequately monitor the reforms that Serbia is continuously undertaking, such as the reform of the judiciary and the development of a media strategy.
On the eve of the next high-level meeting in the dialogue between Belgrade and Pristina, scheduled for 7 September in Brussels, President Vucic expressed his willingness to find a compromise solution together with the European Union to ensure lasting peace and stability in the region. makes.
Opening of the Zezelj bridge in the presence of Han
Vucic and Farici announced that the Zezelj bridge in Novi Sad will be open for road traffic at the end of this week, in the presence of the Commissioner for Enlargement Negotiations and the Neighborhood Policy Johannes Hahn.
Ambassador Fabrici pointed out that the EU has invested more than 30 million euros in the construction of a bridge and access roads, as this bridge provides a better connection in the region and contributes to a further strengthening of the economy and business improvement in Serbia.
President Vucic expressed his gratitude to the European Union for the great help in rebuilding the Zezelj Bridge, as well as for all donations that contribute to the strengthening of Serbian society, especially the economy.
Source link