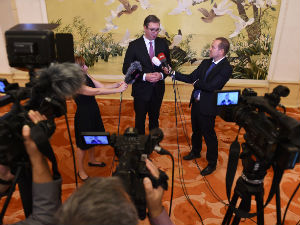 After the meeting, Aleksandar Vucic said that he had been for days prepared for a meeting with Siamese.
"I had a shave and my legs and hands were shaking, but I did what I promised the citizens," said Vucic.
The Serbian president emphasized that he invited Si Jinping to come back to Serbia.
"I summoned President Sija twice, only for the third time he told the minister that he should arrange a return to Belgrade." If he gives orders, you know that this is the end, "said Vucic.
The Serbian president explains that he has asked Sija to come so that we can boast on the spot that, in relation to the number of inhabitants and the size of the area, we have the best cooperation and results with China.
President Sia personally received a call for participation in the second session within the "One belt one way" project, in April next year in China. This is, as Vucic pointed out, only the second call he sent after he called on Russian President Vladimir Putin.
Vucic emphasized that Belgrade and Beijing also support each other when it comes to territorial integrity.
Opportunity for extra stimulation of the growth of the Serbian economy
President Si emphasized the importance of building an industrial zone and the arrival of large Chinese companies in Serbia, according to Vucic.
"Tomorrow you will see – we are among the most powerful Chinese companies with whom we did not have the opportunity to meet each other in the years of previous work, we believe that some of them will come to our country, which will further increase the growth of Serbia. would encourage, "said Vucic.
The president of Serbia also notes that he spoke emotionally about smithevo iron factories. As he says, the Chinese president is bound to the workers because he was touched by their attitude towards him when he was in Smederevo.
As he noted, the main problem of the Serbian economy was RTB "Bor" and Železara, and today we have a company that will soon become the largest exporter and the biggest contributor to GDP growth. At the same time, as the company indicates, this is the company from which we levy taxes and regularly settle debts.
He reminded that RTB & # 39; Bor & # 39; more than one billion euros was due, and as far as Zelezara is concerned, we lost 12 or 13 million dollars a month.
Expected help in advanced technology
Vucic said he asked the Chinese president for help and support for extra high-tech improvement in our country, that is, for innovative technologies and artificial intelligence.
"I have some ideas that I have received after talking with Sheikh Muhammad bin Zayed, they are doing something together," the president said, adding that Serbia wants to find its place in those areas.
It is our goal, he emphasizes, that Serbia retains young and developed people, that they can work and earn in their own country.
It was said, says the president, and the industrial zone, and announced that he will meet the leaders of some of the most powerful Chinese companies in China.
"It was such an important agreement that I could not convey all impressions in a short time, I was wondering if I was an asshole," the president said.
Vucic said that the Chinese president had told him "who knocks on the door so often and the door is opened" because perseverance is rewarded.
As part of the "One belt one road" and "China 16 + 1" initiative, Serbia is withdrawing the largest funds.
The president says that Serbia has the most projects from China and that it is preferential loans, not commercial, and we have no more troublesome problems & # 39 ;.
"There are a lot of ideas we are talking about with China: from small things, such as the fact that in the next six months we will be dealing with the export of pig's feet, slippers and everything that has fallen in our country or will not be sufficiently carried out. We think we'll tell them "Let's see what we're going to do with lithium and bad luck in Western Serbia," said Vucic.
In addition, we were able to cooperate with China in the field of making electric buses and cars, all the way up to, as he said, the production of flying cars.
He has announced that he will discuss tomorrow with Sinopekom, the largest petrochemical company in the world, what we need to do with our petrochemical complex.
"I am proud of our Serbia that is slowly jumping forward," Vucic said.
He pointed out that we are a sovereign, independent country that makes its own decisions, and that has the price we pay on the other side. "We are leaders and choose a good policy, we want to win economically in the region and develop economically," Vucic said.
When the Chinese company invests 300 million euros in Cerovo, Majdanpek will generate 1.5 percent growth, which means 600 million euros per year, which we can spend without borrowing, says Vucic.
"Where are you going, the leading Chinese companies are coming"
President Vucic stressed that there is a huge potential and a tremendous opportunity for cooperation with China and reiterated that it is a great honor for Serbia to hold an official bilateral meeting with the President of China every year.
Vucic reiterated the importance of visiting Serbia, and stated that all Chinese companies will do their best to show the President the results they have in Serbia.
"For our people this means more work, railways, higher salaries, accelerated development of Serbia, I am very happy," Vucic said.
"Proud of Serbia that has succeeded and that jumps ahead," said Vucic after talks with the Chinese president. He announced that he will speak to the Chinese Prime Minister Li Keţang for the fourth time tomorrow, and that the focus of the discussion will be on the topics of the economic forum in Tjenjin.
The president said that there is a tremendous honor and a new meeting with Lii, with whom he has complete trust.
Vucic announced that the Serbian delegation will also hold important meetings tomorrow in Tjenjin, that the fair will be planned and that ministers will have the opportunity to make numerous contacts and get acquainted with modern technologies.
This will be an opportunity to prepare President Sija's next visit to Serbia through discussions on digitization and technology, Vucic concluded.
During the forum in Tjenjin he will meet with the Estonian president, the Latvian president and the president of Samoa.
"Everyone has recognized Kosovo, so I'll talk to them a little bit," Vucic said.
Source link