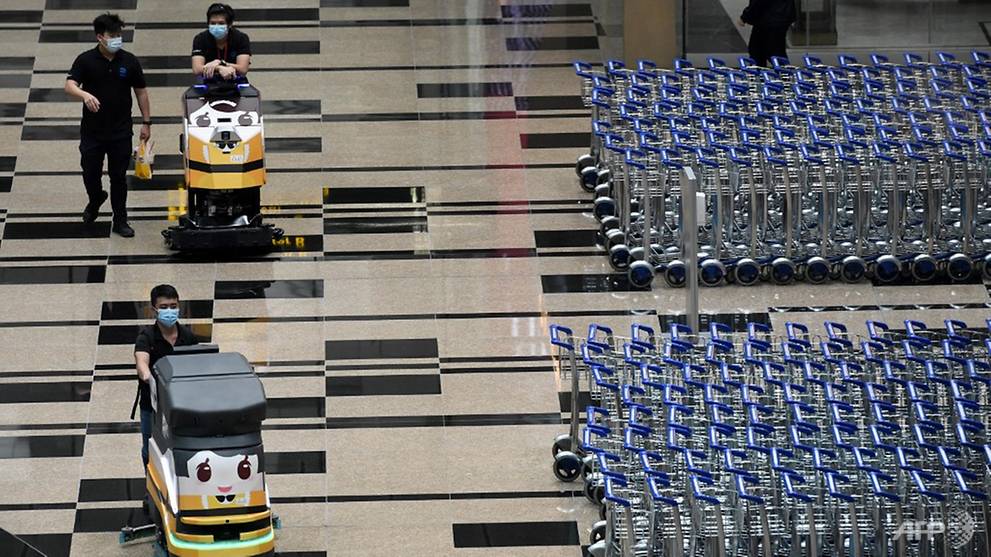 SINGAPORE: Singapore reported 10 new COVID-19 cases as of Tuesday afternoon (Dec. 1), including two locally transmitted infections.
One of the local infections was in the community, involving a 66-year-old woman who works as a cleaner in the transit area of ​​Changi Airport Terminal 3, the Ministry of Health (MOH) said.
The other case lives in a dormitory for foreign workers, the first such infection since November 10.
There were eight imported cases, all of which had been placed on home warrant or isolated upon arrival in Singapore.
COMMUNITY CASE
The Changi Airport cleaner who contracted COVID-19 was asymptomatic.
Her infection, which is currently unrelated, was discovered through the biweekly routine tests of the authorities on the front line.
"Her serological test result is negative, indicating a likely current infection," said MOH.
According to the ministry, the woman is staying on Yishun Ring Road with her husband who is currently unemployed.
"At work, she dons personal protective equipment, including a face mask, face shield, gloves, and a gown. Her previous smears she did as part of RRT (scheduled routine tests) were all negative," said MOH.
All of her identified close contacts, including her relatives and colleagues, have been isolated and quarantined. They are tested at the beginning and end of their quarantine period.
"We will also perform serological testing for the close contacts to determine if the (case) could be infected by them," said MOH.
Last month, Singapore's Civil Aviation Authority said security management measures at Changi Airport have been improved to protect frontline workers after two people working in Terminal 3 tested positive for COVID-19 in October.
For example, all airport employees who are in "close contact" with travelers from risk countries or regions will have to wear full personal protective equipment. This includes face masks, face shields or goggles, gloves, shoe covers and medical gowns as needed.
READ ALSO: Improved security management measures at Changi Airport after 2 employees test positive for COVID-19

In September, a COVID-19 case had come to work at Changi Airport. He was a household contact from another community business.
DORMITORY CASE
The dormitory reported Tuesday was also asymptomatic and was discovered by the ministry's "proactive surveillance".
He was taken to hospital when the result of his Pap test showed positive for COVID-19, and all of his close contacts in the dormitory and workplace have been isolated and quarantined.
IMPORTED MATTERS
Of the eight imported cases, one was a holder of a special pass who entered Singapore from Indonesia and was arrested by police for suspected involvement in a previous case.
He was tested for COVID-19 and isolated until taken to hospital when his result was positive.
In the other imported cases, it concerns a work pass holder from Japan and five work permit holders from Indonesia and Myanmar.
Another case involved a holder of a long-term visit pass – a one-year-old boy who arrived from Russia. He is a contact from a previous case.
EXCLUDED CASES
Five more cases have been discharged from hospitals or community isolation facilities, bringing the total recovery to 58,139, MOH said.
There are 29 cases that are still in the hospital. Most are stable or improving, and none are in intensive care.
Thirty-one are isolated and cared for in community facilities. These are the ones who have mild symptoms or are clinically good, but still test positive for COVID-19.
As of Tuesday, Singapore has reported 58,228 COVID-19 cases and 29 fatalities from the disease.
The fact is, you don't have to worry.AIR TRAVEL BUBBLE POSTPONED
Singapore and Hong Kong said earlier on Tuesday that they will postpone the launch of a bubble to next year amid a spike in COVID-19 cases in the Chinese city.
The travel bubble was set to begin Nov. 22, but both cities had said a day before the initial launch that the launch date would be delayed two weeks.
A new start date for the travel bubble will be revised in late December, the Singapore Aviation Authority said.
READ: Singapore, Hong Kong to postpone bubble launch

Under the travel bubble, travelers between Singapore and Hong Kong will be subjected to COVID-19 testing, rather than quarantine or staying at home. There are no restrictions on the purpose of travel and there is no requirement for a controlled itinerary or sponsorship.
BOOKMARK THIS: Our comprehensive coverage of the coronavirus outbreak and its developments
Download our app or subscribe to our Telegram channel for the latest updates on the coronavirus outbreak: https://cna.asia/telegram
Source link