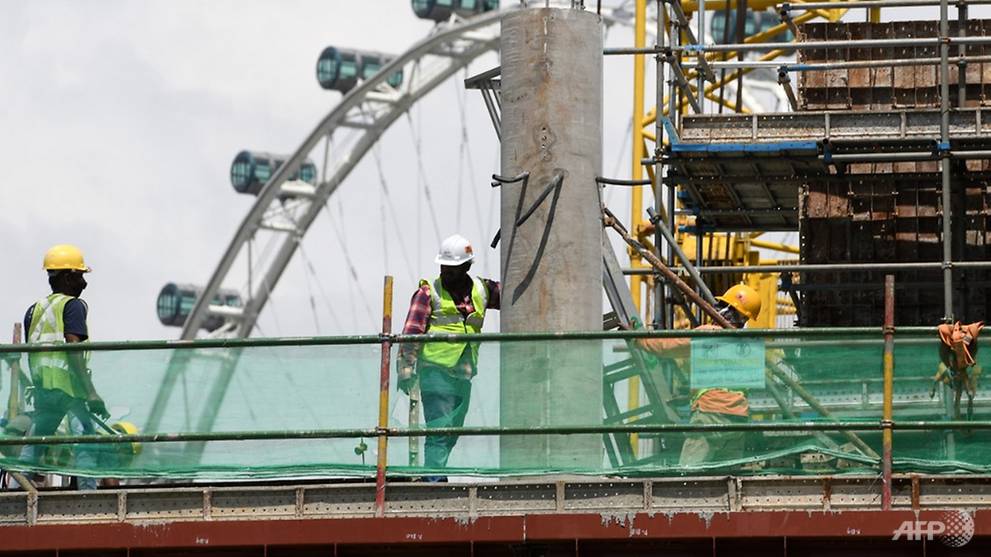 SINGAPORE: On Friday (Dec. 4), two more workplace deaths were reported by the Workplace Safety and Health Council (WSHC), which has taken the death toll to five in the past two weeks.
In the first incident on Tuesday, two workers were packing goods in a warehouse when one worker heard a loud thump and found the other face up on the ground after falling from a height, the WSHC said.
The injured worker was taken to hospital where he died of his injuries.
On Wednesday, two workers were repairing a machine when the plate suddenly descended on one of the men. He was pronounced dead on the spot by attending paramedics, WSHC said.
The Ministry of Manpower (MOM) is investigating both incidents.
READ: Construction companies are urged to review safety protocols after 3 workplace fatalities in 2 days
THREE FATALITIES AT THE WORKPLACE IN THE WEEK OF 23 NOV
The two deaths this week come after three workers died over a two-day period in workplace incidents last week.
The first of the three incidents took place on November 23.
An employee was lifting the work platform of a MEWP when he became trapped between the MEWP guardrail and a roof covering, according to a bulletin on the WSHC website.
The worker was freed on the spot by ambulance personnel and pronounced dead.
The next day, a worker was checking formwork panels at a construction site when he lost his grip and fell about two feet to the ground. The employee was taken to hospital where he died of his injuries the next day.
The third incident also occurred on November 24, and involved a worker tasked with performing arc welding on a pipe.
In order to facilitate welding work, an inert gas was previously introduced into the tube. "The worker was then found unconscious with his upper body in the opening of an adjacent tube," the WSH accident report said.
He was pronounced dead in the hospital.
MOM is also investigating these incidents.
Last week's fatalities sparked calls from the WSH Council and the Singapore Contractors Association Ltd (SCAL) to urge construction companies to carry out a "thorough" time-out exercise on their work sites.
READ: Foreign worker fell 4.7m through board to death, MOM considers action: Coroner
On Thursday, a coroner reported on a deadly incident in 2019 that MOM is considering taking action against an employee's employer after he fell to death from a height of 4.7 meters while on job at Shaw Plaza. The occupant of the building is also being considered.
MELVIN YONG FROM NTUC WEIGHING ON THE FATALITIES
In a Facebook post on Friday, NTUC Assistant Secretary General Melvin Yong said he was "deeply concerned and alarmed" by the surge in workplace fatalities.
To date, the total number of workplace fatalities is more than two-thirds of the total workplace fatalities in 2019, Mr Yong said, adding that this was " against the backdrop of COVID-19 restrictions, where the number is the level of business activity ".
READ ALSO: More workplace fatalities despite decline in work activities due to COVID-19 pandemic
Referring to these incidents, Mr. Yong said they serve as a "critical and grim reminder of the need to guard against fatigue or even complacency" as companies resume operations and Singapore continues to move into Phase 3.
"I urge companies to continue to prioritize and ensure the safety of our employees, and not rush the lives of our employees to catch up," said Yong.
"Instead, companies would do well to hit the pause button and revise security measures and protocol as needed."
He also came up with the idea of ​​having a trained WSH representative with each organization, who could ensure that the implementation of safe workplace controls to address the risk of COVID-19 infection improves workplace safety. does not endanger.
"There is a new impetus for us to look at ways to gradually return workers to work, as many have not returned to their field of work for months," said Yong.
He called on companies to consider implementing a structured reorientation program for employees returning to the workplace after extended periods, especially in "high-risk areas such as manufacturing, construction, transportation and storage".
Source link