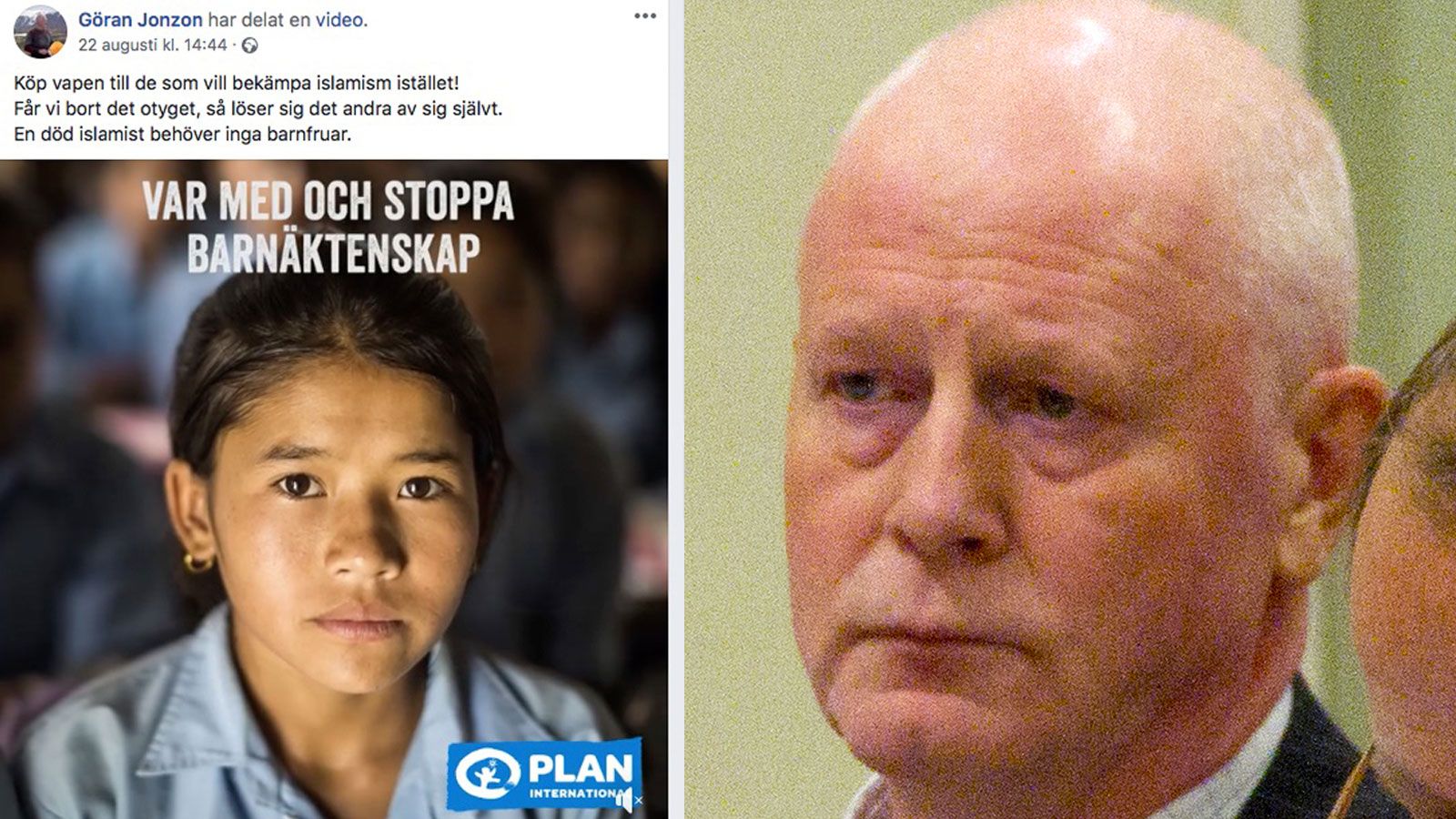 The group leader of the Christian Democrats in Vilhelmina, Göran Jonzon, risks to be excluded from the party after a series of statements on Facebook.
The local KD top praises Jimmie Åkesson and writes that fast metal is better than humanitarian efforts against Islamists.
"We do not accept such statements and we strongly reject them," says Anders Sellström, KD district chairman in Västerbotten.
On his private Facebook page, Göran Jonzon, in second place on KD & # 39; s list of city councils in Vilhelmina, has shared a campaign aimed at girls exposed to child marriage.
In response to the campaign, Göran Jonzon writes: "Buy weapons for those who want to fight Islamism instead! If we get rid of them, the other person will dissolve himself.A dead Islamist does not need grandchildren."
In the comment he adds: "We have already sent enough money for humanitarian efforts, but the sliders seem to be in the pockets of terrorists, the only thing that bites these crazies is metal that travels at high speed."
1 of 5 | Photo: Jan Johansson
Göran Jonzon.
"Very outrageous"
Ronny Thellbro is chairman of the local section of the Christian Democrats in Vilhelmina and knows the posts.
"I fully agree that it is very insane, I know Göran and know that he can be quite eager sometimes, this is the worst I have seen, of course there is nothing I can stand behind, nor something that party can stand behind.
Could this have consequences for this person?
"I have been in contact with Göran and explained that we are not behind this." Göran realized that there was a big mistake and he regrets it, I know he has removed the messages.
When it comes to the issue of continued membership, Ronny Thellbro tells him that he has had contact with the board and that he is having an internal discussion.
Want to see cooperation with SD
On several occasions, Göran Jonzon points out that cooperation with SD may be necessary.
"The social concern that led to chaos everywhere where Islamism has a solid foundation, is now also found for Europe", he writes in a post.
"I see no other reasonable exit path than to form a majority government that is capable of putting an end to the violence, if it has to be done with the help of SD."
He also praised Jimmie Åkesson's statement: "Asylum law is based on the search for the nearest safe country, and Jesus did that – he did not fly to Sweden."
As a commentary on the statement, Göran Jonzon writes: "But on the other hand, there are no lists of all social contributions that Sweden the Swedish embassies in the Middle East are accustomed to when Jesus lured his sandals into rough trucks!"
The party leadership of KD rejects the cooperation
Last week KD & # 39; s party leadership rejected an initiative for cooperation with SD at local level. This after KD and SD had opened a call in Sölvesborg.
To the question of KD Vilhelmina, thinking of cooperation with SD, Ronny Thellbro replies:
"That is what is important for Göran Jonzon himself, we are a local department where immigration does not affect us so much.
Anders Sellström is the district chairman of the Christian Democrats in Västerbotten. He only knows the function where Göran Jonzon invokes violence against Islamists.
– We do not accept such statements and we strongly reject them.
He says that the post will lead to a reassessment of Göran Jonsson's membership, but that the treatment will be handled by the local department.
"It's on a local level because it's on the list of city councils and not on district councils or parliament," he said.
Sorry
Aftonbladet searched Göran Jonzon without any result. On Facebook he apologizes for his overly strong choice of words.
"I thought it would be better to send weapons to those who want to fight Islamists, in line with the Swedish Riksdag's decision to support the military alliance, which sees it as the only way to halt the terror. to call.
He wants to make it clear that the posts were aimed at Islamists – and not at Muslims.
"Some people also want to know that Muslims must be fought with weapons, but it is a pure misunderstanding," he writes.
Source link