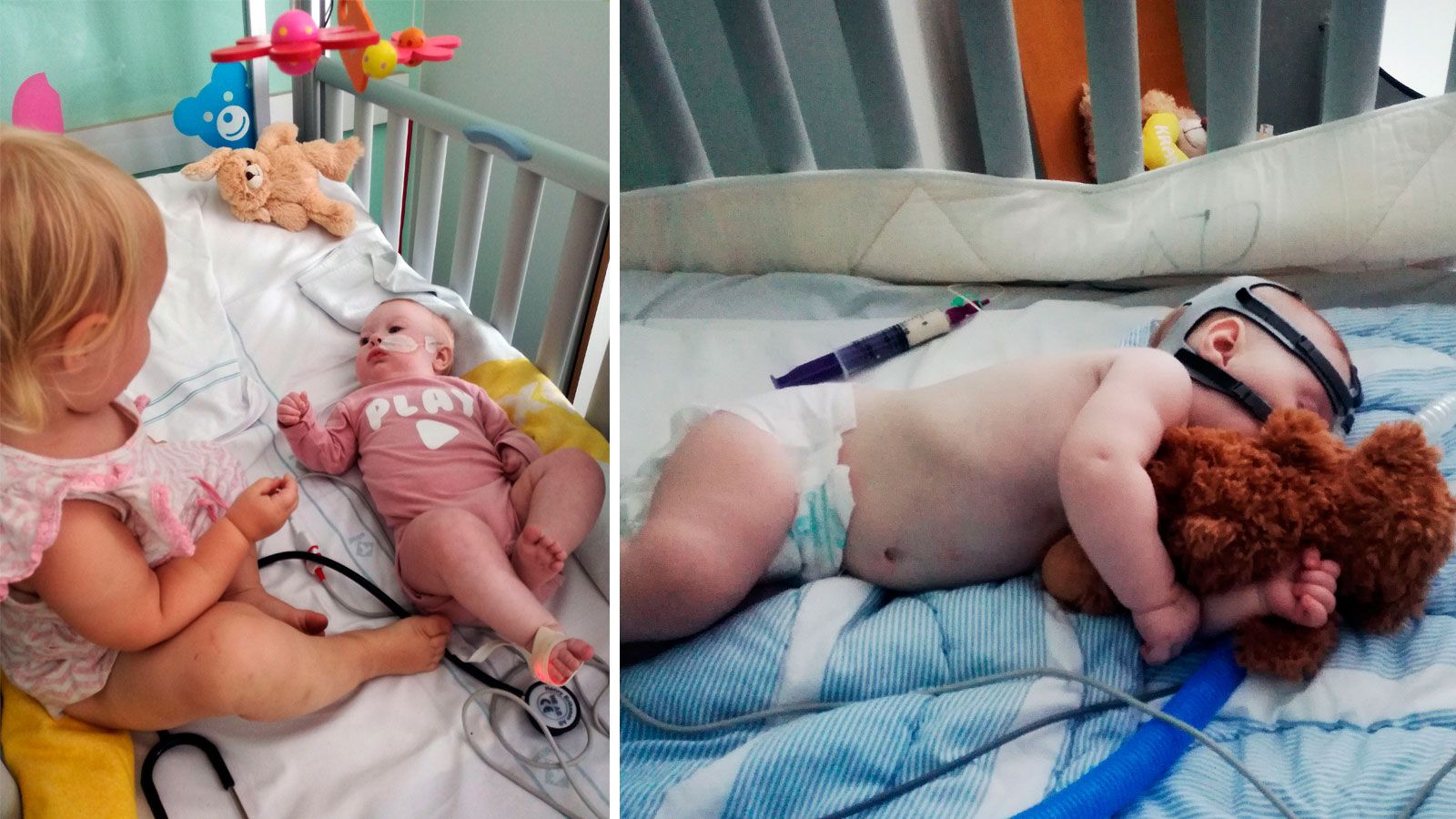 Selma was born without swallowing reflexes and risks being suppressed by her own saliva if she is not constantly monitored.
She was unable to leave the hospital in nine months – but the municipality refuses family support 24 hours a day.
"If we would help, we could start living, we are only now surviving", says mother Katarina Rohdin.
When Selma was born, there were no signs that she could be ill. Now she is nine months old – and she still has not left the hospital.
1 of 2 | Photo: private
Nine months old Selma lacks swallowing reflexes and must be monitored so as not to become stiffened by her own saliva.
The reason is that she has no swallowing reflexes and is at risk of being suppressed by her own saliva, unless she is under constant supervision.
"In five seconds I can see that she shows signs that they are getting no air, fifteen seconds require life-saving efforts," says Katarina Rohdin, 27, 27,
Although Selma was examined by various specialists and neurologists who performed muscle measurements and sent different samples abroad, no doctor can answer the cause of the error.
– She has no diagnosis yet. She develops positively muscular but can not swallow. It is a threat to her life all the time.
Neka's surveillance is day and night
The municipality initially seemed to listen to what the doctors and the family told – and went out with a vacancy to find someone who could help 24 hours a day with extensive medical help.
– They searched people we met during an interview. We told about ourselves and the situation. After that it will be postponed and we will not receive an answer, says Katarina Rohdin.
But in June came the unexpected message – the municipality could only offer help overnight.
– Then we have already hoped. From the beginning it seemed that someone was thinking about giving us the help we needed, then they go back and we do not understand why.
"Adventures of my daughter's life"
The family has submitted a new application and the municipality has decided that they can get help between 22 and 07 hours and at home three times a day.
"We are a family that drowns, and it feels like you went out with a lifeboat and showed that you can help us, and when we catch the lifeboats, they drive away and we trample our water.
The motivation of the municipality for limited help is that Selma is the responsibility of the parent.
– We were completely printed. There is no parent who has to watch over his child every second. I endanger the life of my daughter by simply going to the bathroom. By asking for help in ensuring the life and health of my children, I think I take my parental responsibility.
"We now only survive"
Now Katarina and her partner travel to Selma in the days. At night they receive help from the hospital so that they can sleep.
– You must not be forced to live in a hospital. You start to become afraid of your own health, we have had a bad memory and that is because we are so stressed and tired.
Selma also has a big sister who is almost two years old. She could only greet her little sister once a week.
"And so the church wants the big sister to go to kindergarten.It does not feel right, should we send her away to focus all attention on her little sister? She does not have the possibility to be a big sister or two parents, says Katarina.
1 of 2 | Photo: private
Selma has lived in the hospital for nine months and her room is beginning to be filled with stuff for children.
The family has appealed against the administrative decision and wants to be able to come home and live a normal life with their daughters. In addition to her illness, Selma is just like any other child and loves cycling and laughing.
"We are safe in the situation, but we need two extra eyes, Selma can not say she does not get enough air, we only ask someone next to her who can say that, I just want to cook pancakes for my daughter or diaper on my change another daughter There are such basic needs.
"If we were helped, we could start living, we are only surviving it now.
Aftonbladet has submitted a request for the municipality Älmhult.
"We receive a lot of applications and take decisions and those who are not satisfied can appeal to administrative law, and in fact, I can not say, says Annika Blixt, unit manager for social services, to SVT Nyheter Småland.
Learn CPR – it can save lives 00:45
Source link