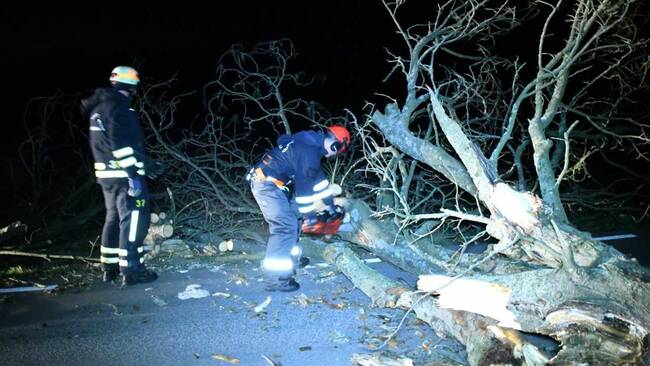 Shortly after midnight, the electricity company Eon has about 5,700 power outages with its customers, but the figure is constantly changing. Many in Östergötland have no power, most in the municipality of Söderköping, where the interruptions took place around 23.30.
– They are usually outside in the archipelago and it is not that strange because it blows a lot at sea, says Björn Persson at the press service of Eon.
Trees lying on wires
Many trees have fallen on wires. There are also trees that lie on non-insulated wires.
– What we can do here tonight is to make switches in the network so that we can transfer the actual error to a limited area, says Björn Persson.
Switching takes place both from operational centers and outside fields.
However, the repair work itself will be carried out on Wednesday. For safety reasons it is not done during the night.
– We will see how we can deal with it in the archipelago where many islands have been hit. You do not get there by car, but by boat, and we do not do that in the dark. Many people in the area are at risk of being left hanging tomorrow before it starts to brighten up tomorrow before the current returns, says Björn Persson.
Finland has hit hard
The number of electricity in Finland as a result of the storm has risen to almost 60,000, after which the wind and wind destroys streamlines, according to the news agency STT.
– The snow will remain abundant, which makes the repair difficult, says Järvi-Suomen Energia in the southeast of Finland according to the Swedish Yle.
Most of the currentless ones are in the middle of the country.
In Denmark you prepare for higher water levels in for example South Jutland, South Funen and Lolland-Falster, with water levels of between 1.2 and 1.6 meters above normal on Wednesday. Several cities have prepared themselves with sandbags and pumps.
Source link