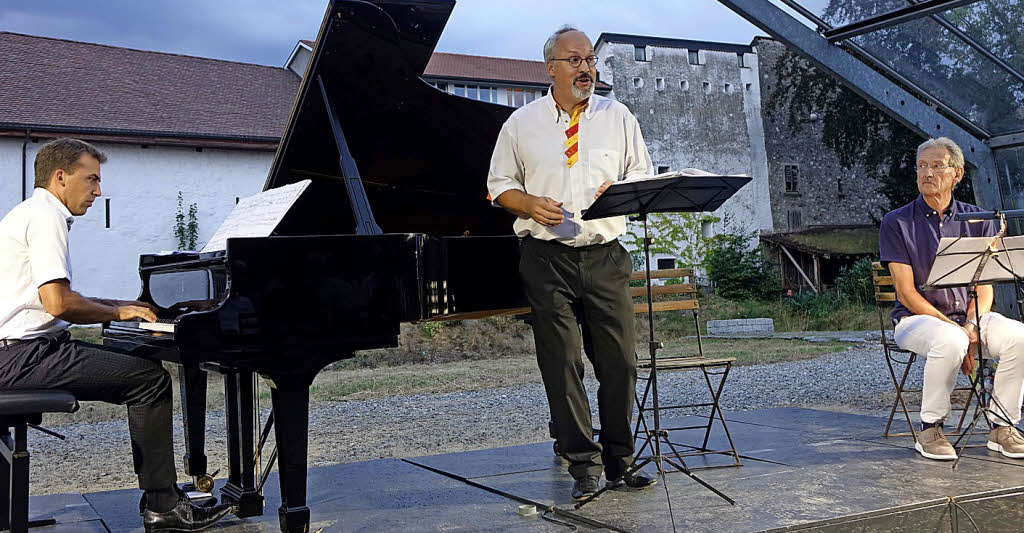 Eight contemporary composers such as Haller's work.

LAUFENBURG / Switzerland. The atmosphere was already overwhelmingly atmospheric: under the transparent roof of the old greenhouse of the Leuenberger brewery in Laufenburg / Switzerland, the singer Tino Brtsch and his piano mate Benjamin Engeli fed songs on the basis of Christian Haller's poems on Saturday evening. The author and lyric poet of Laufenburg recited the respective poems between the song recitals.
The numerous public could follow the clouds, the play of light, twilight and darkness. A natural spectacle, which was even more appropriate, because Haller's poems often include observations of nature in pictorial metaphors. His lyric texts revolve around melancholic depths around life, love and amusement. The music lovers heard for the first time how eight famous contemporary composers from Switzerland put their lyrics to music in a versatile contemporary musical language, ranging from neo-romantic to expressive modernism.
First carefully pearly, then very expressively
In Tenor Brtsch, the initiator of this commissioned work on the 75th birthday of Haller, a tremendously expressive singer interpreter was on stage. With his variable slender tenor voice, linguistic creative power, vocal art always in line with the vocal sound and enormous textual representation, he made the lyrical sensations in all emotional shades of sprib. That the Haller songs were a deep listening experience was also due to the excellent pianist Engeli, who was sensitive to gently bubbling, sometimes very expressive, loaded games.
The evening began with "Morgenfrhe" by Cyrill Schrch, in the time of the sound associative the dark mist, the dark heartbeat, the silhouettes of the trees evoked. The same poem mysteriously sounded in trance, fragile, in delicate tenor nuances in the setting of Yvonne Troxler. Ruedi Debrunner designed three love songs on texts by Haller poetic images full of elegy and sensitivity. Especially touching in the pale, sad tones sounded "Today on the bank", a poem about the loss of a close man, about the loss of the roots and the stop. Balz Trmpy's version in a web of soft sounds also expresses the fragility of existence.
The Impressionist cycle "Pappelallee" by Silvan Loher sounded equally impressive after three poplar poems by Haller. Haller dedicated his moving mothers "At the end of the room" to his mother after a visit to the nursing home, which could be heard in two song compositions: Edward Rushton conjured the mysterious, unspoken in this poetry. Thomas Fortmann added the warm violin voice, played by Dominik Ostertag. The finale was the little cantata "Regentag" by Daniel Fueter with penetration and echoing by the pianist.
The quality of these contemporary art songs, combined with the author's lecture, premiered in the presence of five of the composers for a lyrical-musical experience. Afterwards the newly released CD "Haller-Lieder" (available at Buch & Caf am Andelsbach) was performed in the Kultschr.

Source link