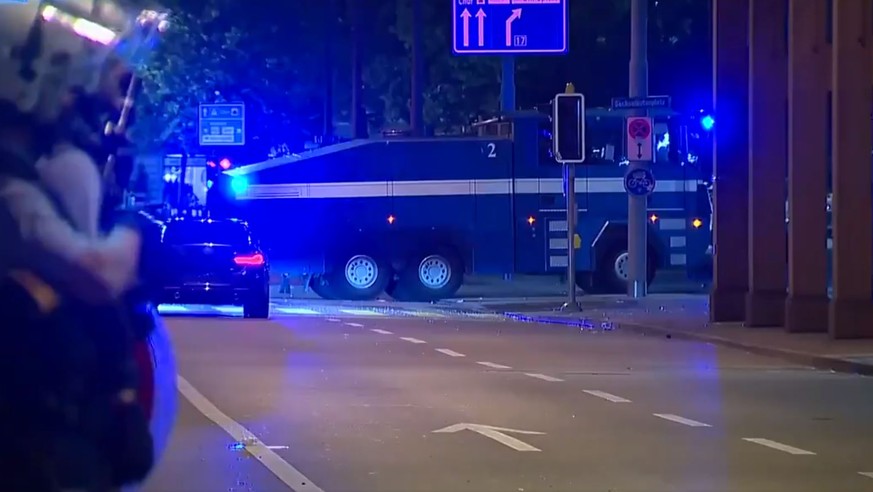 screenshot twitter / srfnews
Messerstecher, Bottle Launcher, Prügler: How the night on Sunday escalated in Zurich
Police officers and paramedics were attacked by masked FCZ fans during a rescue operation on Saturday night. A few hours later the police had to relocate because of a fight.
Sticking at Utoquai
Shortly after 11 am the city police Zurich and the ambulance staff were called to Utoquai on Saturday. On the promenade along the lake it came in the late evening for a dispute between different people.
An 18-year-old suffered from life-threatening puncture wounds and then had to undergo emergency surgery in the hospital. Two colleagues of the same age were slightly injured.
Police and paramedics attacked
When the rescue workers arrived at the scene of the crime, they were thrown to the ground by bottles with a cap of bottles and stones. Two policemen were injured. In the course of time, hundreds of people and gazers came together and show solidarity with the fans. Some attackers wore clothing from FCZ fans. Reinforcements had to be requested to gain access to the wounded.
With the help of rubber, tear gas and a water cannon, the troops could drive back the rioters. But even during the rescue operation, the police and paramedics were again attacked by the same people. Only after 1.30 am the situation calmed down. An 18-year-old bottle thrower was arrested. The Bellerivestrasse was completely closed for more than two hours.
Police and rescue workers attacked
Video: srf
Brawl on the Limmatquai
Shortly after 3 o'clock in the morning, the city police moved again because of a fight that took place in the Limmatquai. When the police arrived, the participants tried to escape. However, three men between the ages of 18 and 22 were immediately arrested. An assistance dog also hired a 20-year-old refugee. In the fight, a 24-year-old suffered a stab wound on his leg, such as the Tages-Anzeiger reports.
Whether there is a connection between the two incidents is not known at the moment.
Opinion FCZ
On Sunday afternoon FC Zurich published a statement about the events. The club distances itself from the incidents and explicitly condemns any form of violence.
The reaction of the police
It is not a new phenomenon that police are increasingly being attacked, police spokeswoman Judith Hödl in the Tages-Anzeiger. This is particularly serious when the police accompany a rescue mission. This is an unforgivable behavior, especially in the case of serious injuries, because time is an important factor.
Hödl can not remember an incident in the size of the Saturday night. In Zurich, targeted attacks have increased since the beginning of 2016. At that time, left-wing extremists had declared violence against the police. This year there have been riots in May.
(SDA / off)
You may also be interested in this:
Teenagers set fire to dozens of cars in Sweden
Video: srf
Subscribe to our daily newsletter
Source link