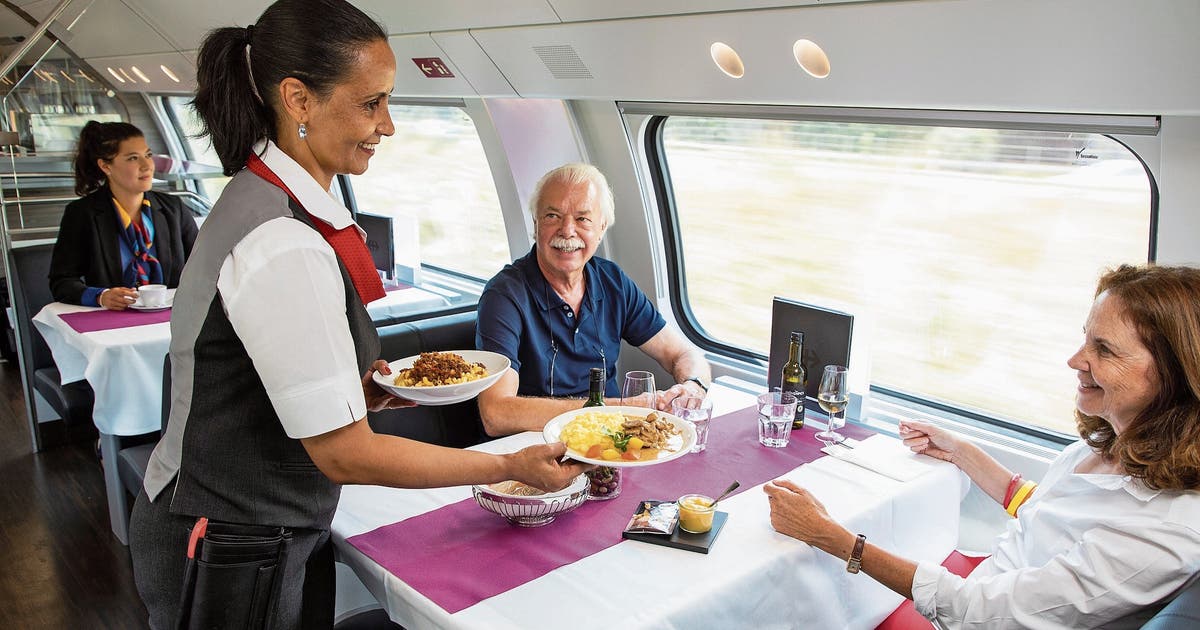 The federal railways unearthed their new double-decker dining car yesterday. This not only offers a new interior design, but also a completely redesigned menu.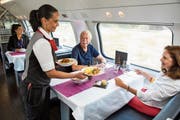 A larger gastronomic offer and additional dining cars: the SBB subsidiary Elvetino has presented its new catering concept in double-decker trains for long distances. The new dining cars, which were presented yesterday at the HB in Zurich, accommodate 30 guests and should be gradually introduced from the change in the schedule of 9 December. A look into the rolling dining room reveals: The federal railways rely on a no-nonsense, functional design. The benches are covered with leather, small cactus plants are on the tables. One of the tables is always accessible for the disabled, which is not the case in the contemporary IC2000 double-decker.
In the future, 159 dining cars will be on the Swiss railway network – 52 more than today. With the commissioning of the trains FV-Dosto and Giruno, each Intercity and Eurocity would lead a dining car. By 2021, the extension of the dining car should have been completed.
From sausage and cheese salad to Thai curry
The federal railways want to remain competitive compared to other means of transport. The SBB now works with strong Swiss gas brands. Customer satisfaction surveys have shown that typical Swiss food is at the top for the benefit of guests, according to SBB.
"We focus on typical Swiss, regionally produced foods, but we also need a vegetarian and vegan selection," says Daniela Corboz, managing director of Elvetino. The menu has been completely redesigned. In addition to the tried and tested Swiss classics such as sausage cheese salad, Ghackets with Hörnli or Zürcher Geschnetzeltes, the popular Thai curry or glass noodle salad is now being served again. The menus on the Intercity and Eurocity trains are available between 6.30 am and 9.00 pm. In addition, travelers benefit from a wider choice of takeaway products. (SDA / red)
Source link